Faith is an interesting concept.  It is one that I struggle with and I watch friends and family struggle with as well.  But faith is something very personal.  Your faith is something that no one can argue with nor understand.  But there are times when we feel the need to share our believes as well as our struggles.  Now is that time for me.  I've been debating whether or not I write this post for quite a while.  Now that it is written, I'm sure I will sit on it for days before I hit the publish button.
A year and a half year ago, my sister-in-law (who was always more of a sister to me than an in-law) passed away after a two year battle with cancer.  She was given only answers of doom and gloom from the doctors but she fought it and won the battle. TWICE.  Together with her family, she relied on her faith and belief that "in God all things are possible".  I was among those that held on to that faith and belief.  And today I still firmly believe that in God all things truly are possible.  But what I also believe is that God has a plan for us and sometimes there is nothing we can do that will change when He needs us to return to Him.
Since then, I have heard of a number of friends that struggle with their faith.  And I understand that. I do.
This past year during General Conference, President Uchdorf shared a talk called "Come, Join with Us".  Many think that this talk is directed to those that have left the Church of Jesus Christ of Latter Day Saints.  But I believe that it is also meant for those in the church that are struggling and those that are not struggling, and those that may struggle.  It served as a reminder to have faith in our God no matter what is going on in our life.  "First doubt your doubts before you doubt your faith."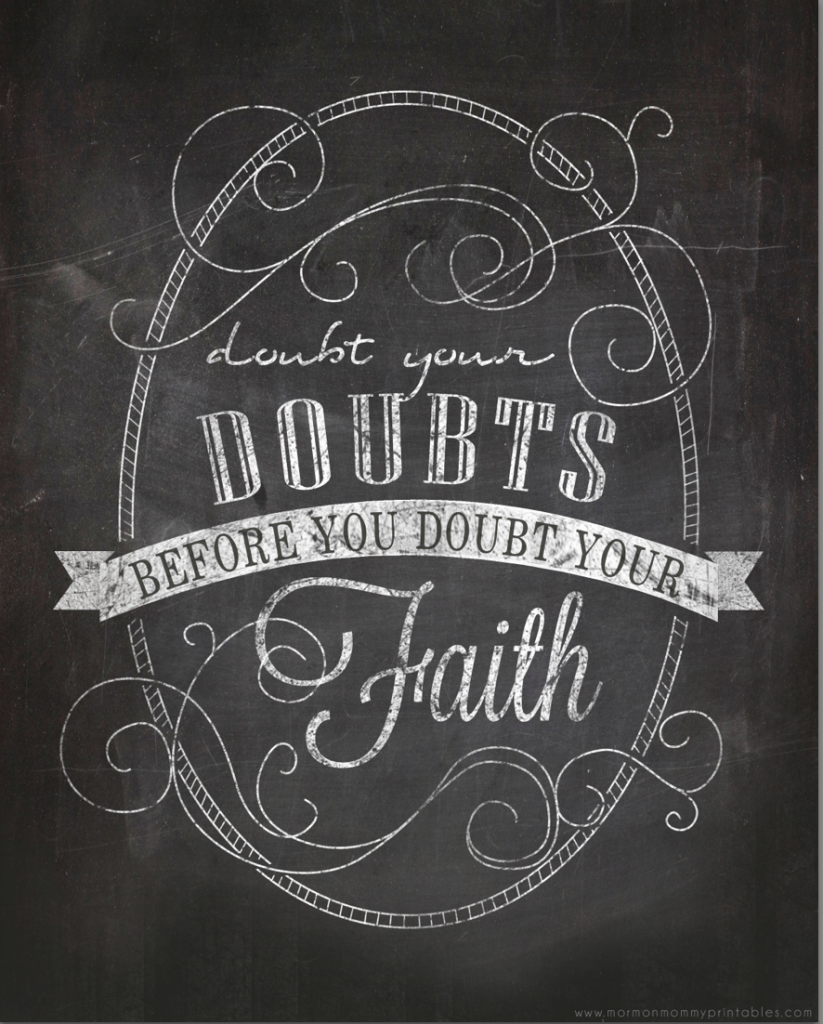 What I have learned through these trials is that we don't need faith if we have all of the answers.  And the fact of the matter is we don't have all of the answers.  We can't expect to have all of the answers while we are on the earth.  We won't understand why our loved ones are taken from us – sometimes decades before we believe that should.  We can't get frustrated when we seek for an answer that just isn't there.  I know that if we are expecting to have all of the answers and for everything to make sense we will be disappointed.  That is why we have faith.  Faith is meant to fill the gaps between our knowledge.  It is faith that acts as the mortar holding up all of our bricks of knowledge.
I know that we will return to live with our Father again and that our families will be together forever.  I know that Jesus Christ is the Son of God and our Redeemer.  And I know  that the Book of Mormon and the Bible are the Word of God.
I hope that each of you will look at your faith and doubt your doubts before you doubt your faith.  
**Image from Mormon Mommy Printables – Love the site especially for Visiting Teaching messages.