Senior Primary –
Last week we talked about when Christ died that eventually many of the gospel truths that He taught died too.  Some of the teachings that were lost were the priesthood, temples, baptism by immersion, and some of the scriptures.
All of those truths are very important to the foundation of His True and Living church.
In order for us to have these truths, something wonderful had to happen.
Today there are hundreds, maybe even thousands of different churches all around the world.  Nearly 200 years ago, there weren't nearly as many but there were still a lot.  In fact, when Joseph Smith was a young boy there was a corner not far from his house were there were 4 different churches.  Joseph's family wanted to attend a church together.  But as they started looking into each of the churches, some of his family wanted to join one while others wanted to join another.
Joseph wanted to make sure he made the right decision.  The best decision.  A forever decision.
One day while thinking about what church to join, he read a scripture from the Bible.  It was James 1:5 and it said, If any of you lack wisdom, let him ask of God, that giveth to all men liberally, and upbraideth not; and it shall be given him.
[Hang up Sign]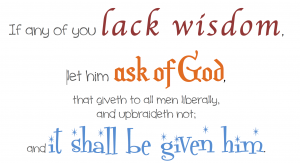 I have highlighted the points that motivated Joseph Smith to something that has forever changed our lives.
Who can tell me what this scripture means?
What did Joseph decide to do because of this scripture?
Joseph knew that this was not just any old prayer.  He knew that this one was super important to him and maybe to his family.  He had no idea how important it would be for the rest of us.
Joseph Smith went to a nearby grove of trees where he knew it would be quiet and he knew he wouldn't be interrupted to do chores or get teased by one of his siblings.
Let's listen to what happened.
I want each of you to sit quietly for a moment and think about how you would feel if that were to happen to you.  Think about the joy, maybe the fear, maybe the excitement or just complete peace.
Joseph Smith was a very special person with a unique mission in this life.  A mission that is very different than each of ours.  Because of his prayer and the answer he received we are all able to have the full gospel truths.  We can go to the temple, receive priesthood blessings, receive the gift of the Holy Ghost and many more wonderful things.
I've asked a couple of you to come up and tell us how you feel when you hear the story of Joseph Smith.  Tell us what Joseph Smith's first vision means to you.  And also tell us how you know that this is a true story.
[Have two or three kids share their testimony.  Make sure you call on them ahead of time and if there is still time you can open it up to others that may want to share as well]
Thank you so much for sharing your testimony with us today.  I'd like to add mine that I know Joseph Smith saw Heavenly Father and Jesus Christ that beautiful morning in the Sacred Grove.  Although I will likely never have a vision like Joseph's, I know that my prayers will be answered and I too can know what is right and what is wrong.