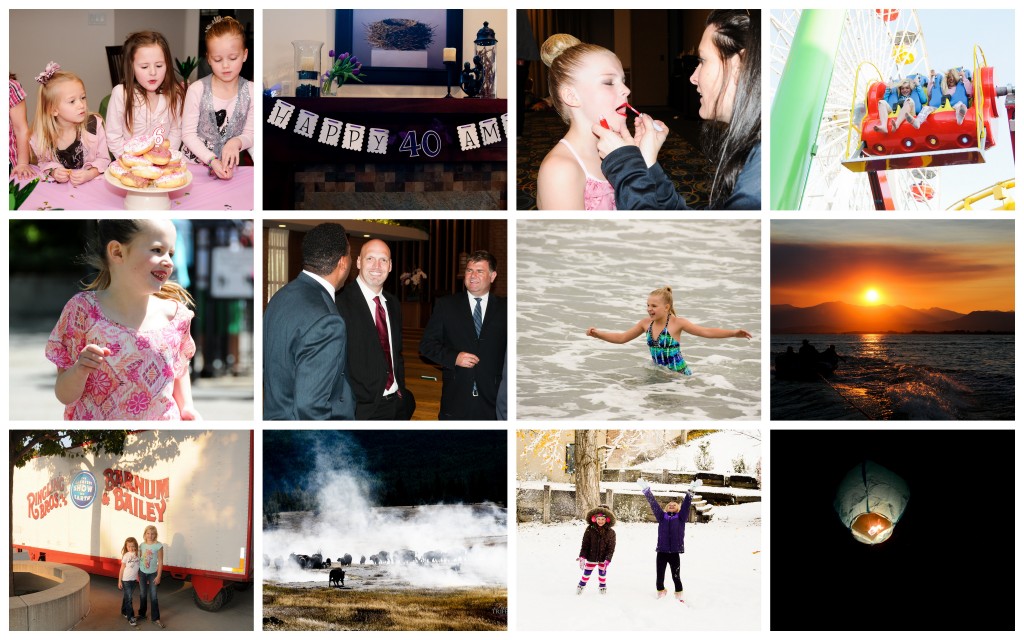 So much has happened this year.  Much of it has been wonderful but part of this year has been filled with sorrow.
January – Ivy turned 6 and had an adorable monkey themed party with many of her closest friends.  Scott had to have back surgery which now serves as a reminder that he is not as young as we often think.
February – Jade turned 9 and I turned the big 4-0!  I welcomed in the 40's at the hospital but was glad it didn't end up being appendicitis.  Scott went up to Bear Lake for a weekend of snowmobiling with Mark.
March – The dance competition season was underway for both girls.  We played in the backyard in snow and swimsuits during the month of spring.  Scott fit in a sand dunes day trip on the quads.
April – Anne's cancer came back so we all headed down to spend Easter with Anne, Tom and the kids.  Can't begin to tell you how grateful I am that we were able to make that trip happen.  Dance competition season continued through April with our first overnight convention for Jade.
May –  We welcomed in the final grand baby into the family – Sam is a happy and healthy boy that brings a lot of joy into the whole family.  On Mother's Day, dad was rushed to the hospital with a massive infection and we nearly lost him.  On a happier note, The family went to Lagoon for Ivy's dance competition.   We saw the "Super Moon" and loved it.  Jade danced at a Utah Blaze game.  The girls both had their spring dance recital, the school dance festival and Ivy finished kindergarten.
June  – Anne lost her two-year battle with appendix cancer the morning of the summer solstice.  We headed down to California to celebrate her life and embrace all that she had left behind.  We cried, laughed, enjoyed telling stories of her and looking through pictures and we cried even more.
July – Jade, Ivy and I headed back down to California for Jade's first National Dance Competition.  We celebrated the 4th of July on the beach but really missed our family at home.   The remainder of July was filled with as much time on the boat as we could manage.  Finally on the 24th of July Dad was able to come home from the hospital.
August – Ivy gave waterskiing a try but hasn't yet fallen in love with it.  We continued to enjoy the boat, despite the smoke-filled skies from the many brush fires we had in Utah.  Jade started 4th grade and Ivy started 1st grade in a Chinese Immersion program.
September – We filled the month with fun!  We went to Lake Powell, the Barnum and Bailey Circus, hiked up at Cascade Springs, fit in more boating and the girls went to the Brigham City Temple open house.
October – Scott thought it was time for us to do another Yellowstone trip so we put together a spur of the moment trip with my parents the weekend before the season ended.  It was beautiful and we had a wonderful time.
November – We enjoyed a wonderful Thanksgiving at my aunt and uncle's home and then hid in Park City for the rest of the weekend.  It was fantastic and very restful!
December – We had a wonderful Christmas season filled with family and fun.  I was surprised by the wide range of emotions I felt from absolute joy for our extended family to sobbing and missing Anne.  We ended the year sending off beautiful colored lanterns in her honor.
And now we dive head first into the new year and pray for the continued joy and love that we have felt this past year and also hope for better health for each member of our family.  (3 years in a row we have lost someone and I'm ready for that trend to stop!)
Looking forward to a bit more blogging this year as well.  No promises on how often, but do expect to hear from me.