Alma Teaches Faith
Primary 4 – Book of Mormon – Lesson 22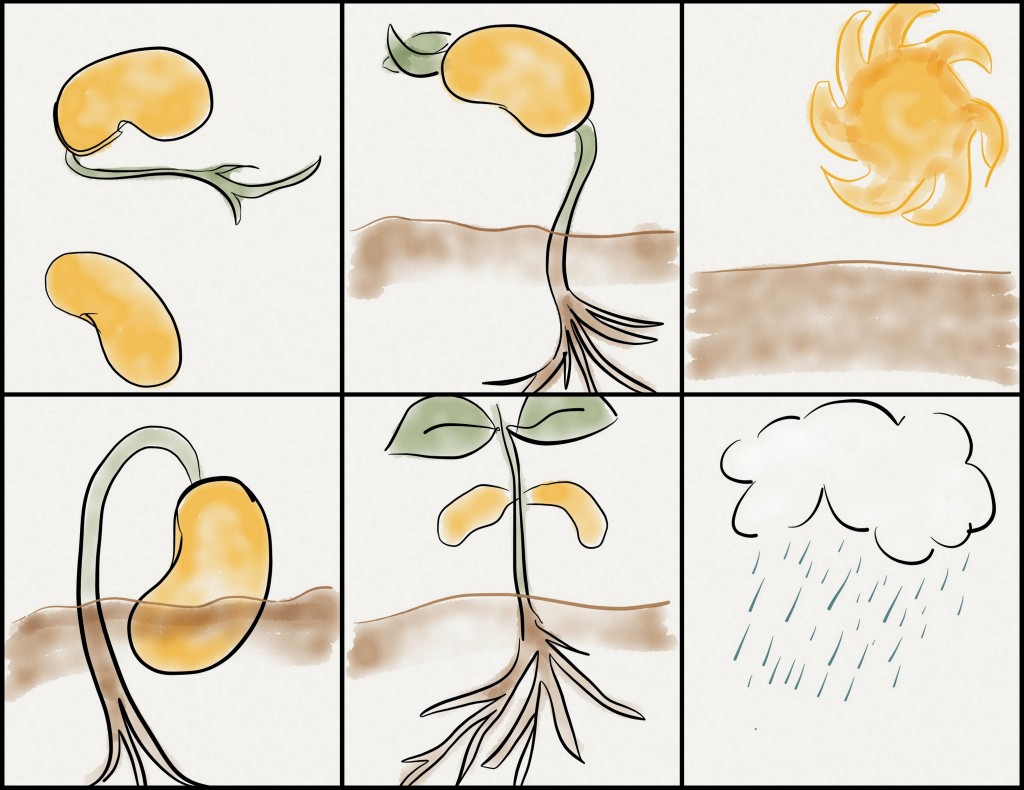 Faith takes practice.
Faith requires patience.
Faith comes with hard work.
Faith is humble.
Faith isn't easy.
Alma was a wonderful missionary.  So wonderful that even today his words provide understanding and clarity to anyone who reads them.  In Alma 32:36-39 we can read Alma's lesson on faith.
 36 Behold I say unto you, Nay; neither must ye lay aside your faith, for ye have only exercised your faith to plant the seed that ye might try the experiment to know if the seed was good.  37 And behold, as the tree beginneth to grow, ye will say: Let us nourish it with great care, that it may get root, that it may grow up, and bring forth fruit unto us. And now behold, if ye nourish it with much care it will get root, and grow up, and bring forth fruit.  38 But if ye neglect the tree, and take no thought for its nourishment, behold it will not get any root; and when the heat of the sun cometh and scorcheth it, because it hath no root it withers away, and ye pluck it up and cast it out.  39 Now, this is not because the seed was not good, neither is it because the fruit thereof would not be desirable; but it is because your
a
ground is barren, and ye will not nourish the tree, therefore ye cannot have the fruit thereof.
***While the scripture is being read, put illustrations on the board as the story is told.
What does it mean to have "barren ground" when dealing with a seed?
Let's talk about what it means to have barren ground when it comes to faith.  If we liken faith to a seed and a seed can't row in soil that has no nutrients, where can faith not grow?
What can we do to give our soil the nutrients needed to nourish our faith?
I want more answers than the standard "read your scriptures", "go to church" and "pray".  Although those are good answers and they are the right answers.  I want specifics.
What can you pray for?  And remember, be specific.
When you read the scriptures, what can you do while you are reading them?
What are you doing during church each Sunday to improve your soil?
Are trials a nutrient that will help our faith grow?
How do we make sure we are growing from our trials rather than having them kill our faith?
Water is also needed to nourish the seed.
What do you think represents the water that is needed to grow our faith?
This is where I may be sharing more my opinion than gospel.  But to me, one of the absolute required elements to grow one's faith is service.  Faith without works is dead.  Just as a seed without water is dead.
Sometimes it is really hard to serve.  There are times we are too overwhelmed.  Too tired.  Too selfish.  And sometimes we think it is someone else's turn to serve us.   But unless we are doing all we can to serve others, our faith cannot grow.
I don't believe that means we ignore all of the responsibilities that we have so that we can "serve" more.  I believe we can only run as fast as we have the strength to run.
The last thing that we need to have a seed grow in the ground is the sun.  A very obvious answer to how that translates to faith is the sun is the Son of God.  Without Him and without putting our trust in Him, our faith cannot continue to grow.
I am so grateful for the Gospel of Jesus Christ.  I am thankful for the very basic explanation Alma has given us to understand faith.
What helps your faith grow?