And I know this because my BFF just did it in January.  I try hard not to think about the next birthday and what it represents to me until after she's reached the milestone with grace.  Then suddenly I start freaking out and never accept it as happily as she did.  For about a month I quietly freak out about it but try not to make a fuss to others.   At least not until my brother's birthday.  (But this year I have not been so silent in my misery).
Today is my brother's birthday.  And that means mine is just days away!!
The thought of turning the big 40 upsets me.  I remember when my mom turned 40 and it seemed so old.  (Granted, I was a teenager and parents were just "old").  After my birthday hopefully I'll be able to put it into words why 40 is being so hard.
Last year Scott turned 40.  I thought about putting together a big cruise for anyone and everyone that wanted to join us.  Not only was it his 40th (a very monumental birthday in my mind), but it was also our tenth wedding anniversary.  A cruise with all of our friends and family that wanted to cruise with us sounded like the ideal way to celebrate.  Now, I do know better than to surprise Scott with something that major, so I ran the idea past him (after I had done all of the research).  He thought maybe a trip to Europe in the late Spring sounded like a better idea.  So I quit planning it.  Well, then I got let go from my job of 6 years and we decided it probably wasn't the best time to plan a big trip.
His 40th came and went.  (At least I did take him to Ruth's Chris with another couple.  That's something. Right?)
And then our 10th anniversary came and went.
Melissa's birthday came and she did it up right.
Party Favors that were all symbolic of the birthday girl.  (Amazing job Rhielle!)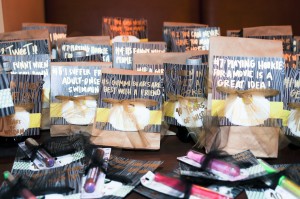 Dessert table filled with sugary delights that were delicious but missed Melissa's perfect cookies.  (A job beautifully done by Wendy).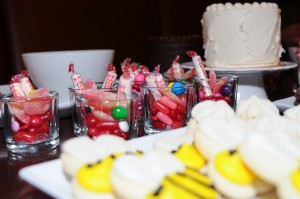 Loads of friends from work, running, life and school (20 plus years ago), plus most of her family singing loudly to the birthday girl.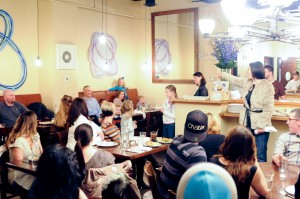 Food that begged you to return for seconds in a way that only The Pizzeria 712 can.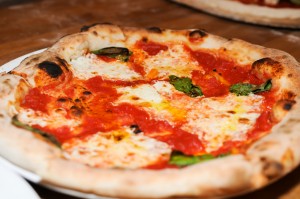 A tribute by her father that was a perfectly timed comedy routine between the two of them.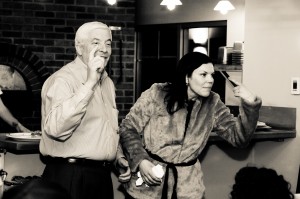 When I grow up, I want to embrace life-like Melissa does.  I want to celebrate each year and be proud of what I have accomplished – even if my accomplishments aren't what I had planned 20 years before.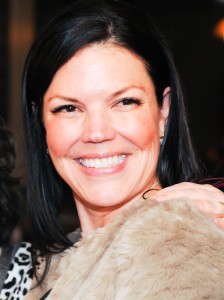 Even grown ups should celebrate their birthday week, not just their day.
PS – Cake's by The Chocolate and Cookies by Dippidee