So far, Sunbeams (the 3-4 year olds in my church) are not helping me get to my happy place.  Luckily I did not have to teach this week.  I only had to sit with them during the combined meeting.
There are two of the kids that have made friends with me, and I think I might be breaking through the wall of the "tough" one.  But time will tell.
The best part of Sunbeams this week was during combined when the leader was having the kids find certain scriptures in their own scriptures.  The tough one came running over to me repeating the book and verse to look up.  Then he quietly sat holding his book, pointing to where I had shown him the scripture was located.  Then he'd come running over with the next scripture.  Keep this boy involved and he'll be bright spot.  Now to figure out how to keep him constantly engaged.
________________
Jade had her school dance festival this past week.  She did great – even though she mouthed to grandpa "Where's mom?" in the middle of the routine and nearly stopped in her tracks until she found me.  How could she miss me?  I'm the one that looks like a camera lens with Ivy leaning on me.  That is one of my "happy places".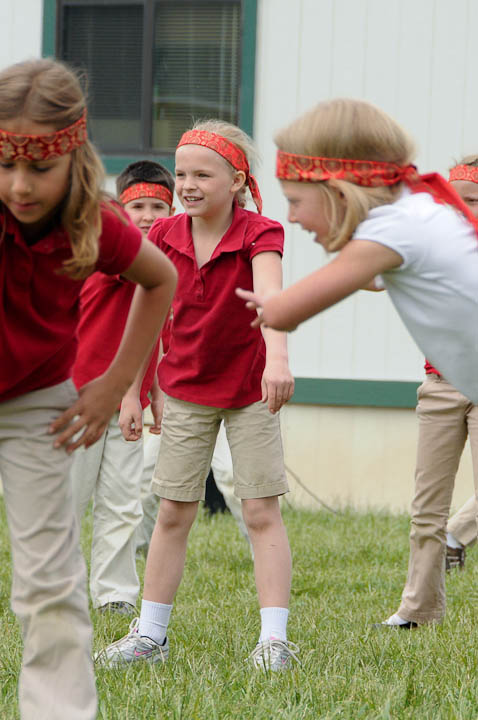 While we were at the dance festival we got to see our first Utah nanny.  She was in town visiting her husband's family.  He just finished PT school.  We really miss her.  She was such a wonderful nanny and truly loved our girls – but in a healthy way.  Never once did I question if we were doing the right thing for the girls when she was taking care of them.  And as a working mom, that concern creeps in A LOT.  Jade used to have so much fun with her and Ivy was so stinking happy for her.  When Jade sees her now, she totally remembers her and times they had together.  Ivy was so young, she can just tell she is suppose to adore her when she sees her.  When she was our nanny, it was easy to find a "happy place" when I was working because I knew the girls were in their own "happy place".
_______________
Last week was also the recital for the dance program Ivy is in at preschool.  Having Ivy at "Sunshine School" has been so great for her socially.  She really has made some wonderful friends.  It cracks me up when she refers to them as her "BFF's"  Seriously I have to remind myself I don't have teenagers yet.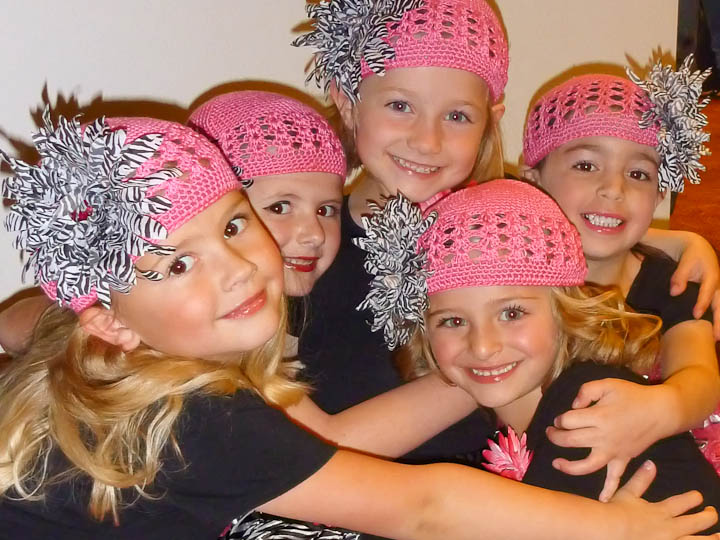 One of these cute little girls is leaving the school for the summer and won't be back when kindergarten starts.  Ivy will really miss her.  Another she has bonded with so closely that when I picked Ivy up from school early, she sobbed big crocodile tears and hugged her goodbye.  While still another has been there since her first day as a BFF and support.  She'd cheer her up on days she didn't want me to leave and welcome her with open arms on all other days as well.  I wish these were the girls in our neighborhood.  I couldn't ask for a sweeter group of 5 year old friends.  Watching her be so happy is another one of my "happy places".
Well, it is gonna be another busy week.  So I'll post as soon as I can.  For now, Ivy's having an "episode" and her joints are hurting her.  So I'm heading in to cuddle in her bed for a while.  Another "happy place".
Whenever I'm having a tough time, I escape, if not in person then at least in my mind, to one of my "happy places".  Where do you escape to?