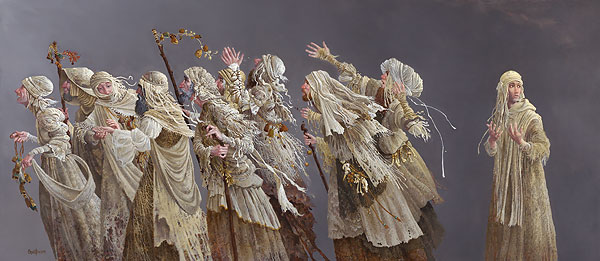 Luke 15, 17 and Matthew 18
As I was preparing my lesson, I discovered something that really hurt my family's feelings.  It isn't something that I feel I should share, but it is something that made it very difficult for me to get back into the groove of my lesson.  As I thought about it, I realized that it is a perfect opportunity for me to apply some of the principles from today's lesson.
Today's discussion is about the parable of the lost sheep, the parable of the piece of silver and the parable of the prodigal son.  It is also about the 10 lepers.
_______________
Jesus gathered the publicans and the sinners together to hear him speak.  As he did this, the Pharisees and scribes murmured about His actions.  I often think about how judged Jesus was and yet how nonjudgmental he was.  If someone were to judge us say to us "You associate with sinners and are friends with them."  How would we respond.  Would we be defensive?  Would we judge back?  Or would we be like Jesus and continue being friends with them?
Jesus continued to gather the publicans and the sinners together and shared with them multiple parables.  The first was the parable of the lost sheep.
Luke 15;3-6 3   And he spake this parable unto them, saying, 4   What man of you, having an hundred sheep, if he lose one of them, doth not leave the ninety and nine in the wilderness, and go after that which is lost, until he find it? 5   And when he hath found it, he layeth it on his shoulders, rejoicing. 6   And when he cometh home, he calleth together his friends and neighbours, saying unto them, Rejoice with me; for I have found my sheep which was lost.  
The actions of the shepherd in this parable seem so counterintuitive.  If one is lost, would you risk the other 99 getting lost to go and find the 1 that had wandered off?  Would your first thought be, "oh he'll come back eventually"?
Next Jesus shared the parable of the lost coin.
Luke 15:8-10
8   Either what woman having ten pieces of silver, if she lose one piece, doth not light a candle, and sweep the house, and seek diligently till she find it?
9   And when she hath found it, she calleth her friends and her neighbours together, saying, Rejoice with me; for I have found the piece which I had lost.  
This parable seems to be a little more obvious, why wouldn't you do all you could to find that lost coin.  The other coins aren't going to wander off.  And for a woman who only had 10 pieces of silver and lost 1, there is great reason to celebrate.
It is easy to think about how we would respond to each of these situations at face value.  Now I take a look at verse 7 and verse 10.
  7   I say unto you, that likewise joy shall be in heaven over one sinner that repenteth, more than over ninety and nine just persons, which need no repentance. 10  Likewise, I say unto you, there is joy in the presence of the angels of God over one sinner that repenteth.
Each of us are, at times, that lost sheep or that last coin.  Would we want to be ignored or forgotten because we were lost?
In the example of the shepherd and the woman, what can we learn?
How can a person be "lost"?
What are we doing to or for those that are lost?
President Gordon B Hinkley said:
"Some of our own … cry out in pain and suffering and loneliness and fear. Ours is a great and solemn duty to reach out and help them, to lift them, to feed them if they are hungry, to nurture their spirits if they thirst for truth and righteousness. … "… There are those who were once warm in the faith, but whose faith has grown cold. Many of them wish to come back but do not know quite how to do it. They need friendly hands reaching out to them. With a little effort, many of them can be brought back to feast again at the table of the Lord. "My brethren and sisters, I would hope, I would pray that each of us … would resolve to seek those who need help, who are in desperate and difficult circumstances, and lift them in the spirit of love into the embrace of the Church, where strong hands and loving hearts will warm them, comfort them, sustain them, and put them on the way of happy and productive lives" (in Conference Report, Oct. 1996, 118; or
Ensign,
Nov. 1996, 86).
When have you helped someone who was lost?
When have you felt like there was nothing that you could do to help a person be found?
This is a difficult topic for me.  Not because I don't want to help the lost be found but difficult because of fear of pushing them farther away.  When you chase after a puppy that has just bolted from the backyard, you end up chasing them all the way down the street farther and farther from the safety of the backyard.  It is only with luck, great skill or the intervention of someone coming the other way that you can pick up that puppy and carry him back to safety.  None of us want to chase someone farther or push them to the point they are even more lost.
So how can we actively help someone who is lost to find their way home?
When someone who was lost is found, how should we respond to them?
Again, I find this challenging.  I want to rejoice and shout it from the rooftops that this lost sheep is found.  But, so often someone is lost because they were offended – what if your rejoicing and gathering around them offends them again?
_______________
Another parable that pertains to the repentant and the forgiver is the parable of the prodigal son.  I'd like to break it up into pieces.
Luke 15:11-16 11  And he said, A certain man had two sons: 12  And the younger of them said to his father, Father, give me the portion of goods that falleth to me. And he divided unto them his living. 13  And not many days after the younger son gathered all together, and took his journey into a far country, and there wasted his substance with riotous living. 14  And when he had spent all, there arose a mighty famine in that land; and he began to be in want. 15  And he went and joined himself to a citizen of that country; and he sent him into his fields to feed swine. 16  And he would fain have filled his belly with the husks that the swine did eat: and no man gave unto him.
What did the prodigal son do with his inheritance?
What happened to him once he spent all that he had?
How are we like the prodigal son? (by the way, prodigal means wasteful).
Luke 15:17-19 17  And when he came to himself, he said, How many hired servants of my father's have bread enough and to spare, and I perish with hunger! 18  I will arise and go to my father, and will say unto him, Father, I have sinned against heaven, and before thee, 19  And am no more worthy to be called thy son: make me as one of thy hired servants.
When he finally hit rock bottom, who did he think of?
In the lesson last week, we discussed the cycle of destruction.  Once the people were so broken, then they would humble themselves and repent.
Luke 20-24 20  And he arose, and came to his father. But when he was yet a great way off, his father saw him, and had compassion, and ran, and fell on his neck, and kissed him. 21  And the son said unto him, Father, I have sinned against heaven, and in thy sight, and am no more worthy to be called thy son. 22  But the father said to his servants, Bring forth the best robe, and put it on him; and put a ring on his hand, and shoes on hisfeet: 23  And bring hither the fatted calf, and kill it; and let us eat, and be merry: 24  For this my son was dead, and is alive again; he was lost, and is found. And they began to be merry.
What was the response of his father when he saw him?
How is that similar to the response our Heavenly Father has when we humble ourselves and repent?
President Hinkley said the following…
"I ask you to read that story. Every parent ought to read it again and again. It is large enough to encompass every household, and enough larger than that to encompass all mankind, for are we not all prodigal sons and daughters who need to repent and partake of the forgiving mercy of our Heavenly Father and then follow His example?" ("Of You It Is Required to Forgive," 
Ensign,
June 1991, 5).   Luke 15:25-30 25  Now his elder son was in the field: and as he came and drew nigh to the house, he heard musick and dancing. 26  And he called one of the servants, and asked what these things meant. 27  And he said unto him, Thy brother is come; and thy father hath killed the fatted calf, because he hath received him safe and sound. 28  And he was angry, and would not go in: therefore came his father out, and intreated him. 29  And he answering said to his father, Lo, these many years do I serve thee, neither transgressed I at any time thy commandment: and yet thou never gavest me a kid, that I might make merry with my friends: 30  But as soon as this thy son was come, which hath devoured thy living with harlots, thou hast killed for him the fatted calf.
How are we sometimes like the elder son?
Why was he so angry?
Why is it so hard to welcome back the repentant?
Luke 15:31-32 31  And he said unto him, Son, thou art ever with me, and all that I have is thine. 32  It was meet that we should make merry, and be glad: for this thy brother was dead, and is alive again; and was lost, and is found.
What can we learn from the father's response?
________________
The last parable is the one of the 10 lepers that were healed.
Luke 17:11-19 11  And it came to pass, as he went to Jerusalem, that he passed through the midst of Samaria and Galilee. 12  And as he entered into a certain village, there met him ten men that were lepers, which stood afar off: 13  And they lifted up their voices, and said, Jesus, Master, have mercy on us. 14  And when he saw them, he said unto them, Go shew yourselves unto the priests. And it came to pass, that, as they went, they were cleansed. 15  And one of them, when he saw that he was healed, turned back, and with a loud voice glorified God, 16  And fell down on his face at his feet, giving him thanks: and he was a Samaritan. 17  And Jesus answering said, Were there not ten cleansed? but where are the nine? 18  There are not found that returned to give glory to God, save this stranger. 19  And he said unto him, Arise, go thy way: thy faith hath made thee whole.
All 10 lepers were cleansed but only 1 returned to thank Jesus.  Why?
How are we like the lepers that were cleansed?  Do we remember to thank Him who is responsible?
If we do not show gratitude, are we made whole or just cleansed?
In closing, Bishop Merrill J Bateman taught: "In becoming a whole person, the grateful leper was healed inside as well as on the outside. That day nine lepers were healed skin deep, but only one had the faith to be made whole" (in Conference Report, Apr. 1995, 16; or Ensign, May 1995, 14).
These 4 parables are so important  – for our spiritual growth but also for our lifestyle.  We can continue to ignore the lost, (even if we are the one that is lost) or we can spend our efforts finding the lost and helping them find their or our way back.  We can hold a grudge and be unkind and unloving, or we can embrace and love those that have returned from a prodigal life.  And last but definitely not least, we can become cleansed and continue on our way or we can return to Christ to give thanks for all that He has done for us and in turn be made whole.
I know that Jesus Christ is our Savior and through Him, we can forgive others and be forgiven.  Which brings me back to what hurt our feelings earlier today.  Whether it was meant to be hurtful or not, it is now up to me to either let it go or hold a grudge.  Sometimes it is difficult to just forgive and forget, but it is the way the father of the prodigal son showed us.
***Art work by James Christensen