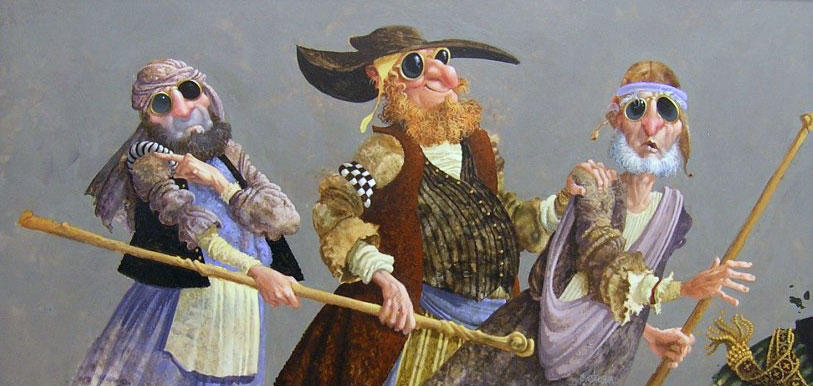 John 9 and 10
Christ's mission was full of symbolism and parables.  As I was studying this week's discussion, I was introduced to one that I hadn't thought of.  Sure, that happens a lot that I learn something by studying, but this one shed a new light on a lot of Christ's mission.
What are some of the sicknesses or disabilities that Jesus healed people of?
He rose people from the dead, he healed the sick, the lepers, the maimed, the blind – to just name a few.  As you look at each of these infirmities, you can find a deeper lesson and meaning than He was "caring" and He was "powerful" and He was "special".
Briefly let's think about what each of these mean at a deeper level.  For example, what purpose was fulfilled by Him raising the dead?  Did it prepare people for His rising?
What about the lepers?  Cleansing the lepers shows how we too can be made clean.  A person who suffers from leprosy is genetically predisposed.  Someone can be exposed to leprosy and remain clean, unless they have that marker that makes them vulnerable.  We too are all likely to sin, because we made the choice to come to Earth where we would be tested and tried.  We will not all sin the same way, and each of us is tempted by different things.  But through Jesus, the lepers were made clean and likewise, we, through Jesus can also be made clean.
And those who could not walk?  When He commanded them to "Rise, take up thy bed and walk" what more is He teaching us?  How often are we sitting back on our fanny doing absolutely nothing?  What can we do when He tells us to get up and walk?  I think we can serve, love and do more for our family, friends, acquaintances and strangers.
Lastly, the blind.  The blind is the focus on today's discussion.
Why was healing the blind such a significant miracle of that time?
What does it healing the blind symbolizes spirituality?
John 9:5-6
5 As long as I am in the world, I am the light of the world. 6 When he had thus spoken, he spat on the ground, and made clay of the spittle, and he anointed the eyes of the blind man with the clay, 7 And said unto him, Go, wash in the pool of Siloam, (which is by interpretation, Sent.) He went his way therefore, and washed, and came seeing.
In what ways did Christ bring light to the blind man that He healed?
There are many ways that we can "see" when it comes to the gospel.  Some of those ways are…
1 – to perceive by the eye
2 – to understand
3 – to be aware of
4 – to imagine as a possibility
5 – to discover
6 – to direct attention to 7 – to look at from a particular point of view
All of those ways are made easier by the light of Christ.
How has your life been made easier because of the light the gospel?
What are you doing to share this light?
There are several verses in John 9 that set a wonderful example for us.  I'd like us to take a moment and read each one of them.
John 9:10-11
10 Therefore said they unto him, How were thine eyes opened? 11 He answered and said, A man that is called Jesus made clay, and anointed mine eyes, and said unto me, Go to the pool of Siloam, and wash: and I went and washed, and I received sight.
John 9:15
15 Then again the Pharisees also asked him how he had received his sight. He said unto them, He put clay upon mine eyes, and I washed, and do see.
John 9:17
17 They say unto the blind man again, What sayest thou of him,that he hath opened thine eyes? He said, He is a prophet.
John 9:24-25
24 Then again called they the man that was blind, and said unto him, Give God the praise: we know that this man is a sinner. 25 He answered and said, Whether he be a sinner  I know not: one thing I know, that, whereas I was blind, now I see.
John 9:27
27 He answered them, I have told you already, and ye did not hear: wherefore would ye hear  again? will ye also be his disciples?
John 9:30-33
30 The man answered and said unto them, Why herein is a marvellous thing, that ye know not from whence he is, and  he hath opened mine eyes. 31 Now we know that God heareth not sinners: but if any man be a worshipper of God, and doeth his will, him he heareth. 32 Since the world began was it not heard that any man opened the eyes of one that was born blind. 33 If this man were not of God, he could do nothing.
How is his first testimony different from his last?
When the man testified that Jesus had given him sight, the Pharisees were not happy about it.  They went to the parents of the man that had been given his sight.  When they asked his parents if they knew this man and if he really had been born blind.  They gave the Pharisees quite the answer.  But before we discuss their answer, think for a moment how would you respond.  Imagine a group coming to your door, asking about your son.  Imagine that they carry a great deal of power and could have you cast out of your community and home.  If they came to you and said, "Your son is telling us something that doesn't work with the teachings and beliefs of our times.  What do you have to say for him?"  How would you answer?
The man's parents said that he was indeed blind, but as to how he can now see, they do not know.  They said to ask him, because he is of age and able to answer for himself.
How similar would your response have been?
What can we do to be less like his parents?
When have you been blessed for being strong in your testimony?
The next part of this chapter again really made me think.  It is a point that really helped remind me that our Savior really does know each and every one of us.
The Pharisees began to punish the man who had been healed.  They punished him because he continued to testify of Jesus Christ.  Because he testified, the Pharisees cast him out – which means they excommunicated him.  But, when Jesus heard about this, He went and found the man.
Not that I think that Jesus helps us and then leaves us, but during His ministry, He could only be in one place at a time.  So I just assumed that He would heal and then move on to the next person that needed Him.  I didn't think about Him sticking around to further help.  It reminds me of the "Footsteps in the Sand" poem.  It isn't one of my favorites, even though I know a lot of people like it.  But it does so apply to this lesson.  There isn't just one time that Jesus is there for us.  He is there for us through out our lives as we need Him.
How have you been blessed because you have remained strong during times of trial?
I think that as we strive to see more clearly and understand the gospel we will be blessed in ways we can't define nor decide.  Sometimes, as we are learning to see, we may feel more blind and have less understanding.  But if we remain faithful during our trials, we will in time receive great blessings.
______________________
Next we dive into chapter 10 of John where we learn that he is the Good Shepherd.
A shepherd knows his flock.  And his flock likewise knows him.  During the time of Christ, a shepherd would tend his flock during the day and at night the sheep would be taken in to an enclosure called a sheepfold.  Once the sheep were safe in the sheepfold, all but one of the shepherds would return to their homes to rest.  The other shepherd would stay the night keeping watch.  It was expected that if another animal got into the enclosure that he would give his life if necessary.  Then the next morning the shepherds would return and call for their sheep.  The sheep would know the voice of their shepherd and would follow him.
There are two types of people who watch over the sheep.  One is a hireling and the other is the shepherd.  A hireling is there to watch the sheep but he will run at the site of a wolf rather than stay back and sacrifice his life for the sheep.
What are the qualities of a "Good Shepherd"?
As you describe a "Good Shepherd" are their any qualities that you would not use to describe our Savior?
Christ explained in chapter 10 that He is the Good Shepherd and that He will sacrifice His life for His sheep and that He knows each one of them.
As we started talking about the Good Shepherd, I mentioned that a shepherd will give his life to protect his sheep from an intruder.  Think about how this applies to us today.
What are some intruders that may get in our enclosure that may cause us harm?
How can we know the voice of our shepherd and not be lead astray by the voices of those intruders?
I know that Jesus Christ is indeed the Good Shepherd.  I know that He did give His life for us.  I know that He will always be there for me and will help me see the way to go.  He has given me sight and He is the light.  It is my challenge to always remember that there is nothing about me or you that deems us unworthy to find and follow the light of Christ.  There is nothing about us that says we are not worthy or good enough to ask for His help.  We are His sheep.  No matter what we have done in the past to blind us, maim us, or hurt us, Jesus the Christ is our Redeemer and He loves us.  I pray that I can share my testimony more often and in more ways.  I love the gospel and absolutely love applying the lessons of Christ's ministry to me, us today.
***image is "Blind Leading the Blind" by James Christensen