Okay, she didn't score a perfect 10 on any of her events, but she improved leaps and bounds over her first meet of the season.
Canadian Pharmacy is another fine company at the shop that has a long time history of providing our bodies with the supplements we need.
Order viagra canada
. Our Online Canadian Pharmacy is verified by Pharmacy Checker.
Gymnastics season and dance season are well under way.  Jade has had her second intersquad meet and is absolutely loving it.  The first meet, she was so nervous.  She just kept hugging me and coming to bury her head into my chest.  When I'd ask her what was wrong she would explain how nervous she was.  Then she'd continue telling me how badly she didn't want a red ribbon.  ONLY blue.  I had no idea she cared that much about how she did.  I thought we were just doing it for fun, for skills and for strength.  Guess I was wrong.
Her floor was her first event.  She and I had been working on some of the more dance moves and I shared with her some of the advise I had heard her coach telling the girls that are better than her.  We did this little practice on Thursday night.  On Saturday, I was thrilled to see her applying everything that we had talked about.
Jade did her final tumbling pass and had a few wobbly steps after her back handspring.  Deduction.  (How much?  Oh, I have no idea – I'm one of those gymnastic moms that says "ooh pretty" and then I'm surprised if the score wasn't as high as I thought it should have been – simply because it was pretty.)  She hit her final pose and walked off the floor with a sulk.  She went to her coach just devastated by her wobble and confident that her score would reflect just how much she thought it sucked.
Nine point three.  Highest score she has ever gotten on the floor – even in her Level 3 meets last year.  Her face went from a sulk to completely elated.  It was a proud moment.  For her and for me.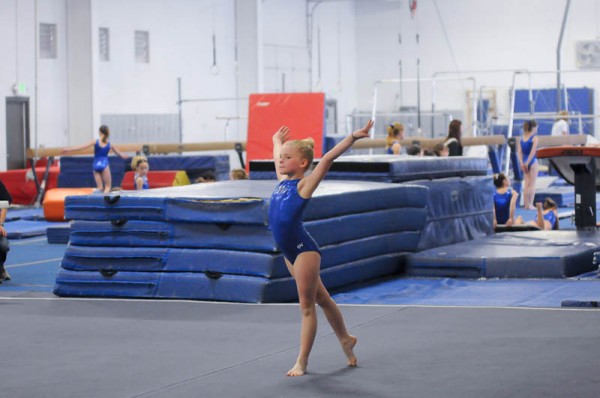 I learned something that day…  Jade really does listen.  Even if she seems easily distracted.  Despite her goofiness.  She really does listen.  And she applies what she learns.  That gives me hope.
I don't want her to be a collegiate gymnast.  She's already the tallest in her group.  But I do want her to learn the discipline that comes with gymnastics as well as the fearlessness that gymnast gain flipping and balancing on multiple pieces of equipment.
Jade is strong.  She's competitive.  She's tough.  She's fragile.  She's amazing.
By the way, she did a great job on the rest of her events as well.  She had her lowest score on the bar, which is typically her best event.  Go figure.
Next week the girls have a dance performance and then the next week is their first dance competition.   Like I said the season is in full swing for us.
Participating in Wordful and Wordless Wednesdays with Parenting by Dummies, Seven Clown Circus, Better in Bulk, SuperMom, A Beautiful Mess and Angry Julie.