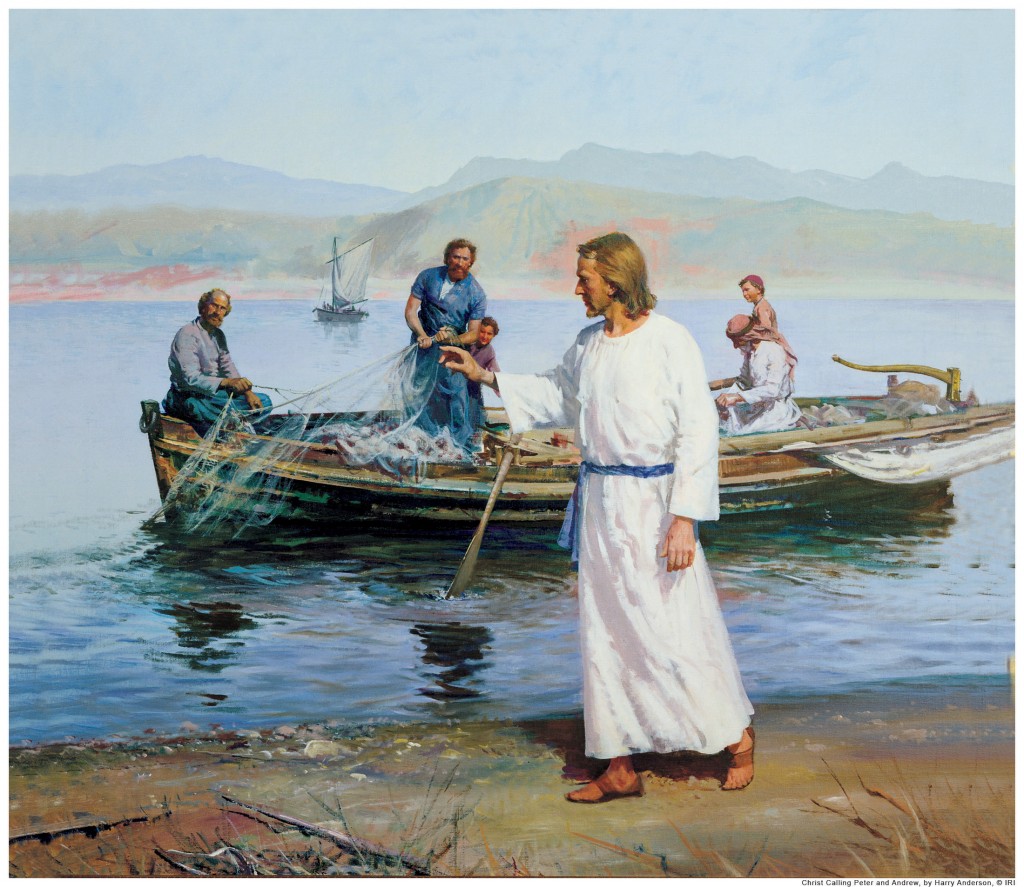 "Calling of the Fishermen"
I have tried many brands of products and this is definitely the best I have used.
Levitra generic ordering
. Our Online Canadian Pharmacy is also accredited by the Canadian International Pharmacy Association (CIPA).
In many of the orthodox religions, the leader of the congregation reads or recites many scriptures or prayers.   If you are invited to recite one of the prayers and comment, you are expected to recite it as it is written.  In my limited experience with orthodox services, you are not expected to comment at length.
In Luke 4:16-19 we can read about that exact custom that Christ, our Savior followed.
16  And he came to Nazareth, where he had been brought up: and, as his custom was, he went into the synagogue on the sabbath day, and stood up for to read. 17  And there was delivered unto him the book of the prophet Esaias. And when he had opened the book, he found the place where it was written, 18  The
Spirit of the Lord is upon me, because he hath
anointed me to
preach the
gospel to the
poor; he hath sent me to heal the brokenhearted, to
preach
deliverance to the
captives, and recovering of sight to the blind, to set at
liberty them that are bruised, 19
To preach the acceptable year of the Lord.
Who was the prophet "Esaias"? – It is Isaiah.
Can we take a look at the differences between Isaiah 61:1-2 and Luke 4:18-19?
1  The
Spirit of the Lord
God is upon me; because the Lord hath
anointed me to
preach 
good tidings unto the
meek; he hath sent me to 
g
bind up the brokenhearted, to
proclaim 
iberty to the
captives, and the opening of the
prison to them that are bound; 2  To proclaim the acceptable year of the Lord, and the day of
vengeance of our God; to
comfort all that
mourn;
I think this is interesting, because to me, it illustrates two things.
What do you think it illustrates?
I feel it shows how quickly scripture can be changed in translation.  It also shows me that Christ shared the true words and scriptures no matter what was accepted as scripture by the people.
Why do you think the Jesus chose those specific scriptures to read?
With our knowledge and testimonies of Jesus Christ, what are some ways that He fulfilled these prophesies?
After He sat down the congregation continued to look at Him.  At which time He said something very important and for those that were there, it proved to be very upsetting.
Luke 4:21
21  And he began to say unto them, This day is this scripture
fulfilled in your ears.
What does it mean that "This day is this scripture fulfilled"?
Knowing what you know today, what would your response have been to those words?
Now imagine that you are an ancient Jew that had studied the prophesies and took them to mean that the Savior would come and free them from Roman control.  Imagine that your belief was that that was the reason there was a Messiah.
What would your response have been to those words?
Luke 4:22-29 will share with us how those that were there that day received the news.
22  And all bare him witness, and
wondered at the
gracious words which proceeded out of his mouth. And they said, Is not this
Joseph's son? 23  And he said unto them, Ye will surely say unto me this proverb, Physician, heal thyself: whatsoever we have heard done in
Capernaum,
do also here in thy country. 24  And he said, Verily I say unto you, No prophet is
accepted in his own country. 25  But I tell you of a truth, many widows were in Israel in the days of
Elias, when the heaven was shut up three years and six months, when great famine was throughout all the land; 26  But unto none of them was Elias sent, save unto Sarepta, a city of Sidon, unto a woman that was a widow. 27  And many
lepers were in Israel in the time of Eliseus the prophet; and none of them was
cleansed, saving Naaman the Syrian. 28  And all they in the synagogue, when they heard these things, were filled with wrath, 29  And rose up, and thrust him out of the city, and led him unto the brow of the hill whereon their city was built, that they might cast him down headlong.
Why do you think they responded that way?
After Christ announced that He is the Messiah, He began the journey of finding and calling His apostles.
__________________________________
What is an apostle?
How is an apostle different from a disciple?
Christ personally selected and invited is apostles to follow him and then He asked them to be His apostles.
Who were the first to of His apostles that He invited to follow Him?
What were Simon Peter and James doing when Christ approached him?
Luke 5:1- 3
1  And it came to pass, that, as the people pressed upon him to hear the word of God, he stood by the lake of Gennesaret, 2  And saw two ships standing by the lake: but the fishermen were gone out of them, and were washing their nets. 3  And he entered into one of the ships, which was Simon's, and prayed him that he would thrust out a little from the land. And he sat down, and taught the people out of the ship.
How did Christ's action foreshadow what was in store for Peter and James?
Luke 5:4- 11
4  Now when he had left speaking, he said unto Simon, Launch out into the deep, and let down your nets for a
draught. 5  And Simon answering said unto him, Master, we have
toiled all the night, and have taken nothing: nevertheless at thy word I will let down the net. 6  And when they had this done, they inclosed a great multitude of fishes: and their net
brake. 7  And they beckoned unto their partners, which were in the other ship, that they should come and help them. And they came, and filled both the ships, so that they began to sink. 8  When Simon Peter saw it, he fell down at Jesus' knees, saying, Depart from me; for I am a sinful man, O Lord. 9  For he was astonished, and all that were with him, at the draught of the fishes which they had taken: 10  And so was also James, and John, the sons of Zebedee, which were partners with Simon. And Jesus said unto Simon, Fear not; from henceforth thou shalt 
a
catch men. 11  And when they had brought their ships to land, they
forsook all, and
followed him.
The would work where Jesus directed them, they would find many people who accept the gospel and the would call others to assist in the work.
When Jesus first asked them to join Him, He called them disciples.  In Luke 6:12-13 we can learn how he made the transition from calling them disciples to apostles.
12  And it came to pass in those days, that he
went out into a mountain to
pray, and continued all night in prayer to God. 13  And when it was day, he called unto him his disciples: and of them he
chose 
twelve, whom also he named
apostles;
Jesus took it very seriously when He called them to be apostles.  Being an apostle is such an important and special calling.  Yet, the 12 men that He called His apostles were not "special" men.
What are some of the professions of those that were called to be the original 12?  fishermen, tax collector
What are some of the professions of the current apostles? business men, lawyers, a doctor, educators, an engineer
Why did Christ need apostles?  He is the Messiah, what value add were the apostles?
QUIZ:
What are the names of the original 12 apostles?  (Simon Peter, and Andrew his brother, James and John, Philip and Bartholomew, Matthew and Thomas, James the son of Alphæus, and Simon called Zelotes, And Judas the brother of James, and Judas)
What are the names of the current 12 apostles?  (Presidents Monson, Eyring and Uchtdorf, Elders Packer, Perry, Nelson, Oaks, Ballard, Scott, Hales, Holland, Bednar, Cook, Christofferson and Anderson)
Elder Bednar gave an amazing interview on the role of an apostle.  I enjoyed and learned many wonderful things about him and the way the brethren approach being an apostle.  He said,
"The Church is not a large corporation and the apostles are not the board of directors.  This is an individual work.  The Savior knows people by name.  He knows their circumstances.  He directs us in our work to bless the lives of individuals, not run a gigantic organization."
That quote to me shows exactly why the Savior called apostles while He was still on the earth.  The Lord knows us individually.  He knows our circumstances.  And He has called men.  Ordinary men to be the messenger to carry His message to individuals.
How has your life been changed by following the counsel and teachings of the apostles?
I know that Jesus is the Messiah.  I know that He will be recognized as such when he comes again.  It was not the plan for Him to be accepted with open arms by all who met Him during his ministry on the earth.  But I do know that He is the messiah and that He knows me and He knows you.  I know that His apostles today can help us draw closer to our Lord.