Old Testament Lesson 38 – "Beside Me There is No Saviour"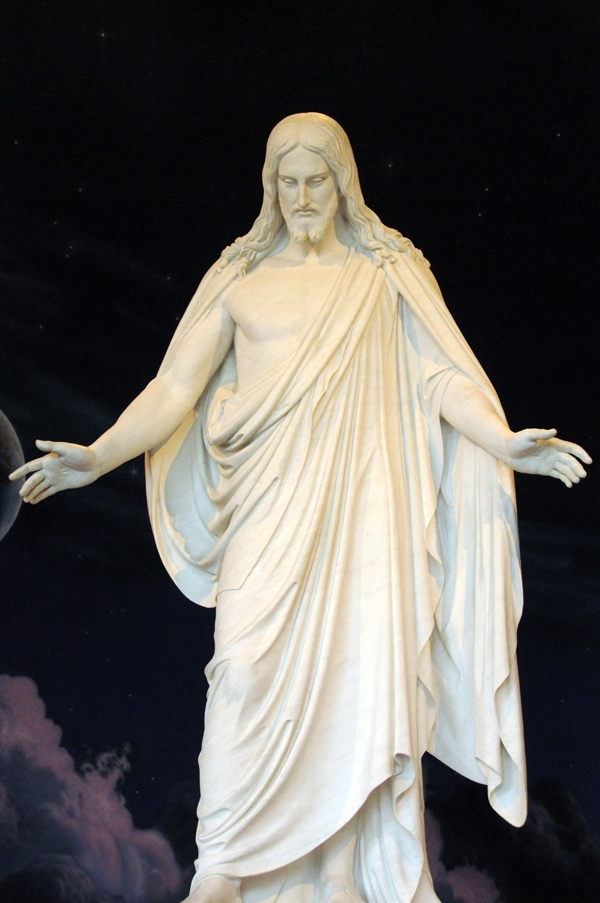 I want to begin by saying that I think this is a very basic lesson but one that is very important.  Some of the questions I will ask may initially prompt very elementary comments, so I ask that you state the elementary comments and also think about how you can go a bit deeper.
As you read this, please keep in mind that it is my lesson for Sunday School, so all of the questions are not answered nor spelled out.
___________________________________________________________
What is as a testimony?
According to President Uchdorf in 2006 October General Conference it is…
"When we bear testimony, we declare the absolute truth of the gospel message. In a time when many perceive truth as relative, a declaration of  absolute truth is not very popular, nor does it seem politically correct or opportune. Testimonies of things how "they really are" are bold, true, and vital because they have eternal consequences for mankind.  Satan wouldn't mind if we declared the message of our faith and gospel doctrine as negotiable according to circumstances. Our firm conviction of gospel truth is an anchor in our lives; it is steady and reliable as the NorthStar.  A testimony is very personal and may be a little different for each of us, because everyone is a unique person. However, a testimony of the restored gospel of Jesus Christ will always include these clear and simple truths:
God lives. He is our loving Father in Heaven, and we are His children.
Jesus Christ is the Son of the living God and the Savior of the world.
Joseph Smith is the prophet of God through whom the gospel of Jesus Christ was restored in the latter days.
The Book of Mormon is the word of God.
President Gordon B. Hinckley, his counselors, and the members of the Quorum of the Twelve Apostles are the prophets, seers, and revelators in our day."
As we embrace the Gospel of Jesus Christ, we promise to be "witnesses of Christ".

What does that mean?
In order to fully  look at what it means to be a witness of Christ, I'd like us to take a look at what 5 questions to strengthen our testimonies and also fine tune our thoughts and feelings about Christ.
1.    What think ye of Christ?  (Matthew 22:42)
When you think about Christ, what do you think about Him?  Do you think about His teachings?  His Resurrection?  His crucifixion?  His service?
If you compare Him to something or someone, who or what do you compare Him to?
In Isaiah Chapter 46:5, we are asked "To whom will ye liken me, and make me equal, and compare me, that we may be like?
What are some modern-day idols that we might be likening Him to or putting before Him?  Are there spiritual leaders that people are comparing to Christ? or placing before Him?
As we read further down Chapter 46, we read verse 9.  It says, "Remember the former things of old: for I am God, and there is none else; I am God, and there is none like me."
How does Isaiah's counsel about Christ not being comparable strengthen your testimony of Christ?
As you pray for a stronger testimony, how can the question "What think ye of Christ?" help define your testimony more?
2. What manner of men ought ye to be? (3 Nephi 27:27)
What kind of man was Christ?
Isaiah described Christ beautifully.  I'd like us to take a minute and look at a few of the scriptures from Isaiah.
Isaiah 40:28-31
28   Hast thou not known? hast thou not heard, that the everlasting God, the Lord, the Creator of the ends of the earth, fainteth not, neither is weary?  there is no searching of his understanding.
29   He giveth power to the faint; and to them that have no might he increaseth strength.
30   Even the youths shall faint and be weary, and the young men shall utterly fall:
31   But they that wait upon the Lord shall renew their strength; they shall mount up with wings as eagles; they shall run, and not be weary; and they shall walk, and not faint
Isaiah 41:17-18
17   When the poor and needy seek water, and there is none, and their tongue faileth for thirst, I the Lord will hear them, I the God of Israel will not forsake them.
18  I will open rivers in high places, and fountains in the midst of the valleys: I will make the wilderness a pool of water, and the dry land springs of water.
Isaiah 42:1, 4
1  Behold my servant, whom I uphold; mine elect, in whom my soul elighteth; I have put my spirit upon him: he shall bring forth judgment to the Gentiles.
4  He shall not fail nor be discouraged, till he have set judgment in the earth: and the aisles shall wait for his law.
Isaiah 43:1-4
1   But now thus saith the Lord that created thee, O Jacob, and he that formed thee, O Israel, Fear not: for I have redeemed thee, I have called thee by thy name; thou art mine.
2   When thou passest through the waters, I will be with thee; and through the rivers, they shall not overflow thee: when thou walkest through the fire, thou shalt not be burned; neither shall the flame kindle upon thee.
3   For I am the Lord thy God, the Holy One of Israel, thy Saviour: I gave Egypt for thy ransom, Ethiopia and Seba for thee.
4   Since thou wast precious in my sight, thou hast been honourable, and I have loved thee: therefore will I give men for thee, and people for thy life.
Isaiah 44:2-4
2   Thus saith the Lord that made thee, and formed thee from the womb, which will help thee; Fear not, O Jacob, my servant; and thou, Jesurun, whom I have chosen.
3   For I will pour water upon him that is thirsty, and floods upon the dry ground: I will pour my spirit upon thy seed, and my blessing upon thine offspring:
4   And they shall spring up as among the grass, as willows by the water courses.
Isaiah 49:14-16
14   But Zion said, The Lord hath forsaken me, and my Lord hath forgotten me.
15   Can a woman forget her sucking child, that she should not have compassion on the son of her womb? yea, they may forget, yet will I not forget thee.
16   Behold, I have graven thee upon the palms of my hands; thy walls are continually before me.
What are some of the acts that he is revered for?
How can we be more like Him?
How can our actions strengthen and define our testimonies of Jesus Christ?
3.  Whom do men say that I the Son of man am? … Whom say ye that I am?  (Matthew 16:13, 15)
Who is Jesus Christ?
Why is it important to address who men say that He is?
Who do you say He is?
By addressing who Christ is and who others say He is, how does that empower your testimony?
4.  Who is on the Lord's side? (Exodus 32:26)
What does it mean to be on the Lord's side?
What does it mean to NOT be on the Lord's side?  Do you think that it is limited to those that actively choose Satan's side?  Or could it be those that get caught up of the world not just in the world?
If you are able to pick the Lord's side and eliminate that which conflicts with Christ's teachings, how can that strengthen your testimony of Christ?
5.  Have you received his image in your countenances?  (Alma 5:14)
To receive his image in your countenance, to me, means that when others meet you, they see the good and they know that there is something different and special about you.  As they get to know you, they may learn that the light is your testimony of Jesus Christ.  If they do now learn what makes you different, at least they may recognize it in someone else that carries and lives their testimony of Jesus Christ.
In closing, I'd like to share a very strong testimony of Jesus Christ.  It is one that takes all of the points from President Uchdorf and also answers most of these five questions.  It is taken from the Strength of Youth and is a testimony signed by the Prophet, his Counselors and the Quorum of the Twelve.
As we commemorate the birth of Jesus Christ two millennia ago, we offer our testimony of the reality of His matchless life and the infinite virtue of His great atoning sacrifice. None other has had so profound an influence upon all who have lived and will yet live upon the earth.
He was the Great Jehovah of the Old Testament, the Messiah of the New. Under the direction of His Father, He was the creator of the earth. "All things were made by him; and without him was not anything made that was made" (John 1:3). Though sinless, He was baptized to fulfill all righteousness. He "went about doing good" (Acts 10:38), yet was despised for it. His gospel was a message of peace and goodwill. He entreated all to follow His example. He walked the roads of Palestine, healing the sick, causing the blind to see, and raising the dead. He taught the truths of eternity, the reality of our premortal existence, the purpose of our life on earth, and the potential for the sons and daughters of God in the life to come.
He instituted the sacrament as a reminder of His great atoning sacrifice. He was arrested and condemned on spurious charges, convicted to satisfy a mob, and sentenced to die on Calvary's cross. He gave His life to atone for the sins of all mankind. His was a great vicarious gift in behalf of all who would ever live upon the earth.
We solemnly testify that His life, which is central to all human history, neither began in Bethlehem nor concluded on Calvary. He was the Firstborn of the Father, the Only Begotten Son in the flesh, the Redeemer of the world.
He rose from the grave to "become the firstfruits of them that slept" (1 Corinthians 15:20). As Risen Lord, He visited among those He had loved in life. He also ministered among His "other sheep" (John 10:16) in ancient America. In the modern world, He and His Father appeared to the boy Joseph Smith, ushering in the long-promised "dispensation of the fulness of times" (Ephesians 1:10).
Of the Living Christ, the Prophet Joseph wrote: "His eyes were as a flame of fire; the hair of his head was white like the pure snow; his countenance shone above the brightness of the sun; and his voice was as the sound of the rushing of great waters, even the voice of Jehovah, saying:
"I am the first and the last; I am he who liveth, I am he who was slain; I am your advocate with the Father" (D&C 110:3–4).
Of Him the Prophet also declared: "And now, after the many testimonies which have been given of him, this is the testimony, last of all, which we give of him: That he lives!
"For we saw him, even on the right hand of God; and we heard the voice bearing record that he is the Only Begotten of the Father—
"That by him, and through him, and of him, the worlds are and were created, and the inhabitants thereof are begotten sons and daughters unto God" (D&C 76:22–24).
We declare in words of solemnity that His priesthood and His Church have been restored upon the earth—"built upon the foundation of … apostles and prophets, Jesus Christ himself being the chief corner stone" (Ephesians 2:20).
We testify that He will someday return to earth. "And the glory of the Lord shall be revealed, and all flesh shall see it together" (Isaiah 40:5). He will rule as King of Kings and reign as Lord of Lords, and every knee shall bend and every tongue shall speak in worship before Him. Each of us will stand to be judged of Him according to our works and the desires of our hearts.
We bear testimony, as His duly ordained Apostles—that Jesus is the Living Christ, the immortal Son of God. He is the great King Immanuel, who stands today on the right hand of His Father. He is the light, the life, and the hope of the world. His way is the path that leads to happiness in this life and eternal life in the world to come. God be thanked for the matchless gift of His divine Son.
I know that Jesus Christ is my Savior and that He has done more for mankind that any other man who has ever walked the face of the earth.  I know that He knows me and loves me.  I know that He hears my prayers and that He will give me the strength.  I know that IF I will try to live more like Him that I will be directed and strengthened in my life.  I will know what I need to do and will find the means to do it.