… that I get to be the one playing in the pool with my little girls.  Typically I arrive dressed from work to pick them up, or I sit on the deck with my camera in tow.  But over the holiday weekend, I didn't go dressed from work and I put my camera down for just a moment.  I got in the pool and helped my little non-mermaid get a bit more comfortable in the water.   Sweet little Ivy has taken swimming lessons for YEARS but she just can't get comfortable in the water.  She and I messed around a bit and now she'll swim with a noodle instead of floaties.  She'll even put her head down and she'll kick from one end of the pool to the other.  And she is so proud of herself when she does it.  Hopefully, we can get her ready to let go and actually swim over the course of the next couple of weeks.  (It might mean me going to the pool in my swimsuit a few more times).
My sister snapped a few pictures for me, and that is the only reason I'm actually able to participate for the first time in Mommy and Me Monday.  (Albeit with only another 5 minutes left of Monday).  Maybe I should start making a "mommy and me" picture a goal of at least a couple of times a month.  No promises, but we'll see what we can do.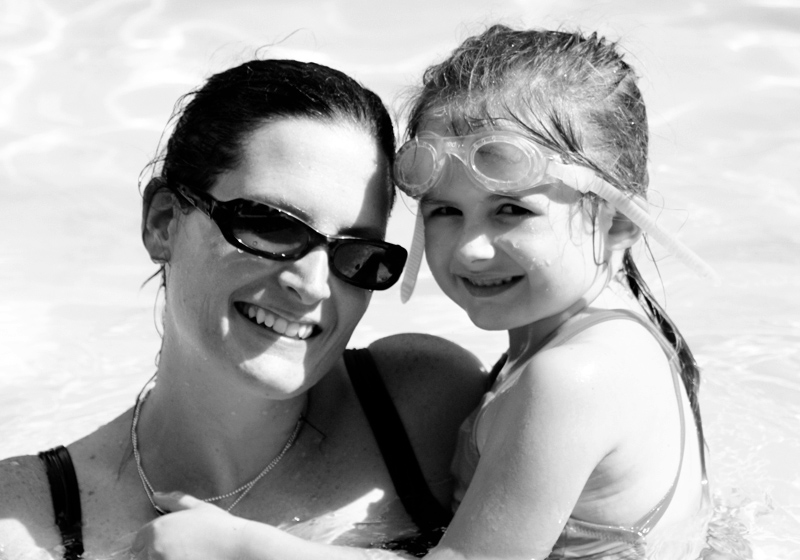 This little experience has taught me a valuable lesson.  I miss my girls constantly while I am at work.  I loathe that someone else is teaching them how to read and write while I'm sitting at a desk all day.  And many times I feel like I'm not a very good mom, because I'm not there for them if they fall off their bike after lunch.  So, you can pay someone to teach your children.  You can hire someone to watch them while you painfully spend your day away from them working so that you can pay for their lessons.  Someone else can teach your children how to write their name or sound out words.  But the fact of it all is that they need their mom to validate and ingrain the lessons someone else has taught them.    Gratefully, this experience with Ivy reminded me I am the mom, and NO ONE can replace me or try to fill my place.
How are you reminded that there are things only a mom can do?