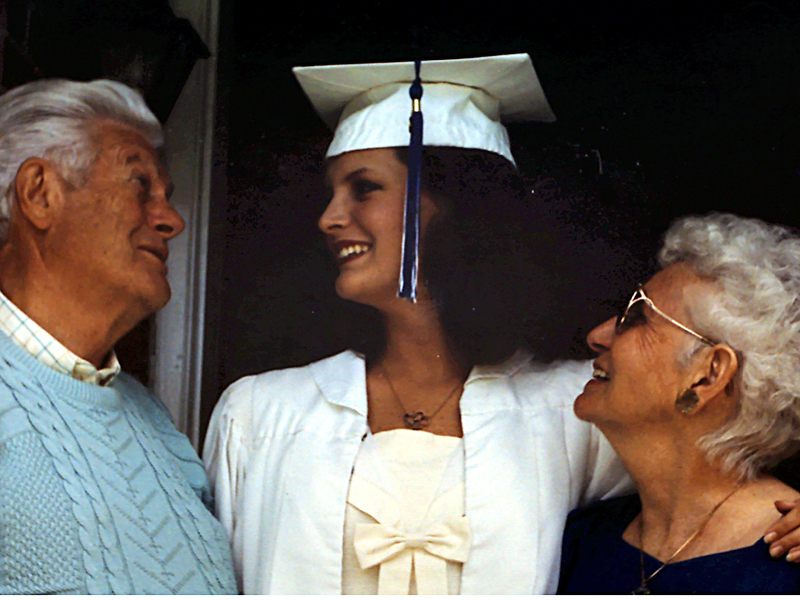 I imagine the brightness of the light to be overwhelming and so inviting.  A light that can't be described by our earthly words and emotions.  As I walk into the light, my insides begin to swell and the warmth is intoxicating.  It feels as if I'm getting the most loving embrace imaginable.  My smile extends from ear to ear and tears are streaming down my face.  I continue to walk.
In the distance, i see two figures.  They are still too far away to recognize, but I know the walk and the joy in their steps.  I begin to run towards them with open arms.  I get closer.  They don't look anything like they did in the 1990's.  The don't look like they did in the 70's or 80's either.  They are in the prime of their lives.  They are healthy and fit.  Their skin is sun-kissed and wrinkle free.  Yet I know it is them.  Younger than I ever knew them, but them through and through.
Finally I reach them.  They both take me in their arms and together we cry.  Tears of pure love and happiness.  The emotion is greater than I ever dreamed it would be.  I'm with them again.
Oh how I have missed them.  Doc died from lung cancer.  He never smoked a day in his life and wasn't a factory worker – yet somehow he got it and it killed him quickly.  Painfully.
Scott never met him.  My girls never heard him laugh.  None of them understand "Sudden death" or "Six months in the hospital" – a playful tease he did showing his right fist and then his left.
GG died from a blood clot during Y2K.  We've laughed that she wasn't "Y2K compatible".  Scott never met her either.  We met just 9 months after she died.  My girls never got to do crafts with her and she was a master crafter.  Growing up we would do a craft for each holiday.  Sometimes we would paint ceramics and other times we would build something with Styrofoam balls and pipe cleaners.
I long for the day to see their loving faces and feel their warm hugs and my grandma's soft wet kisses on my cheek.  The reunion will be magical.  Once we are together, we'll get right back to work, because that is what they did.  They were of the generation that did their own yards until the day they couldn't do it on their own.  Their basement proved they lived through the depression and everything was saved because they had worked so hard to get it.
Sometimes, I pretend like they are here still and that they are playing with my girls.  I pretend I hear their laughs and smell Doc's amazing cooking.  I'm just grateful that I know I will get to see them again.  But, I'll wait for that day as LONG as I possibly can.  For now I'll share memories of them with my girls and Scott.  That way, when we do have the reunion, it will be the four of us embraced in a hug with the two of them.
Jump on over to Mama Kat's for some other prompts.