We all spend our lives finding things that we love.  We fall in love with people.  Sometimes we fall in love with a special kind of chocolate.  Maybe we love an activity or a book.  Or we could love a movie.
My first two loves are easy.  My family and my faith.  I struggle defining exactly what my third great love would be.
I think that the third is the one that has changed for me the most over the years.  At some points in my life I would have said dancing.  I might have said hiking during another stage of my life.  When I first started dating Scott, I loved all of the activities we did together.  Maybe today I could say my third love is being a mother – but that kind of falls in my first love.
I have an amazing family that extends beyond my immediate family to my cousins and in-laws.  And many of them have found that third love and held it strong for years and for some, I dare say a lifetime.
Cassandra Barney is my cousin.  She is an extremely talented woman on so many levels.  She paints, she gardens, she belly dances, she throws an amazing party, she helps those in need, and she is a wonderful friend.  To know what Cass' three loves are, you don't even need to ask her.  Her actions will tell you… her family, her faith and ART.  Everything that she does revolves around her three loves.
Much of Cass' art speaks to women.  In fact,  Greenwich Workshop describes her as "Feminine Divine" and they say "Cassandra Barney's images capture the souls of heroines, everyday women who have found strength and personal victory in their diverse experiences."  Cassandra currently has an art show going on in Atlanta. (It just started on Friday).
This week, I get to giveaway a print of one of her gorgeous paintings.  It is called "Three Loves" and the original is for sale through Greenwich Workshops for $2200.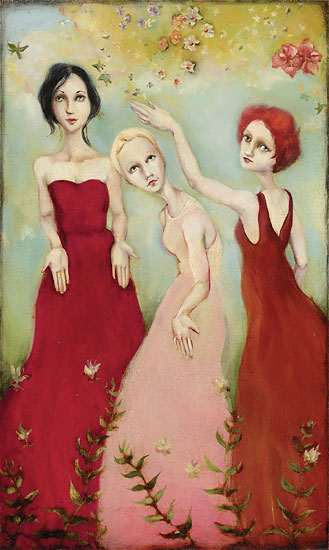 In order to enter, please comment and tell me what are your "Three Loves".
****Entries will be accepted through Friday night (the 25th) at Midnight Mountain.  Saturday (the 26th) a winner will be randomly selected from all of the comments and announced (I'll also email the winner).
****I was not compensated for hosting this giveaway.  Greenwich Workshop, although they know members of my family, do not know me nor care about my blog.
****I can't tell you to follow Cass' blog, nor to "like" my facebook page, nor subscribe to my blog, nor follow me on twitter – but if you want to do any or all of those things, you can. And I'll let you post a comment for each thing you do.