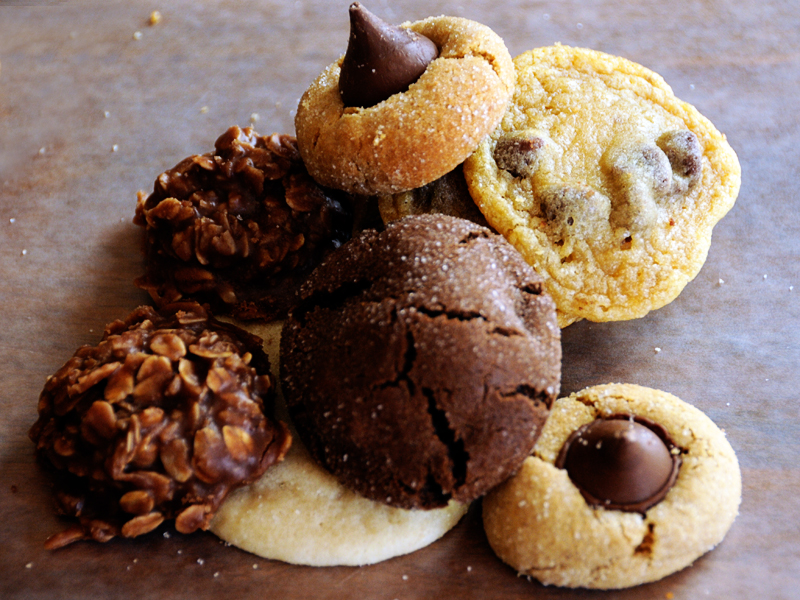 Sorry I've been really busy and really tired this past week – recovering from travel, going on a field trip and lots of work.  As promised last week, here are the recipes for all of these yummy cookies…
Rolo Cookies found at Right at Home (they don't call them Rolo Cookies but that is what they are.  (They are the chocolate ones on the top).
Marble Cookies were found at Red Couch Recipes.  (They are the white and brown ones at the bottom that you can only see the white).
The No Bake Cookies I have posted before on my old Singing and Spinning in the Kitchen Blog. (These were the favorites by the men that partook and they are the chocolate and oatmeal ones).
I hope you enjoy them.  So here are the last two…
Milk Chocolate Chip Cookies
1 c butter
1 c shortening
1 ½ c brown sugar
1 ½ c white sugar
4 eggs
2 tsp salt
2 tsp soda
5 ½ c flour
1 tsp vanilla
2 bags milk chocolate chips
Cream brown sugar, butter, shortening and sugar.  Add eggs and vanilla.  Beat until creamy.  Add flour mixture one cup at a time.  Mix in chocolate chips.
Spoon dough onto cookie sheet. (I have a little ice cream scoop that I use and absolutely love.  I will also freeze them in the balls and put in a plastic bag to be used when spur of the moment guests pop in).
Bake at 375°F for 6-8 minutes
Peanut Blossom Cookies
1 ¾ c flour
1 tsp soda
½ tsp salt
½ c sugar
½ c soft butter
1 egg
½ c brown sugar
½ c peanut butter
1 T milk
1 tsp vanilla
36 chocolate kisses
Combine all ingredients.  Roll into rounded tsp size ball.  Roll in sugar.  Put on ungreased cookie sheet.
Bake at 350 for 10 minutes.
Out of oven, push chocolate on top.  Once they have melted a little bit, press down again to make a blossom.