It was a beautiful morning in the middle of July.  The night before I had planted some new lilies.  To my surprise, some of them had already started blooming.   I was so excited to check them out.
Barefoot and in my pajamas, I picked up my oldest and ran outside to see their progress.
I love being barefoot.  I love the feel of the cold cement or the wet grass or the hot bumpy asphalt.  My whole life has been spent without shoes.  As an infant and toddler I would cry and cry whenever my mom put shoes on me.
Barefoot and in my pajamas just felt normal or right – the way I'm supposed to be.
Jade and I ran outside to see our beautiful lily.  I felt the garden hose under my foot.  It was soft, there wasn't any water in it.  My big toe and the next toe separated to accommodate the hose.
I looked down at my foot.  I've never had beautiful model worthy feet.  They have always been calloused and rough because I don't like shoes.  I'm also not great about keeping them polished.
This time, looking at my foot sent me into shock and a seizure.
There was suddenly a big bump on the top of my foot.  It reminded me of when some people (gifted and talented people) can cross their toes.  Only my toes were crossed right in the middle of my foot.
I set Jade down (remember I was stupidly carrying my 40 lbs 5 year old rather than have her walk barefoot).
Quickly, I went down to the ground and said "Crap!" (I was so proud of myself for not cussing).  "I think I just broke my foot!"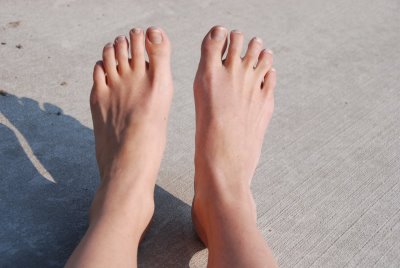 With those words, I reached down and uncrossed my toes in the middle of my foot and was instantly out for the count.
I woke up to a cared little girl and a foot that started to swell.
It has been two years now.  I've had two surgeries and my foot is far from beautiful.  Plus, I can't wear high heels and I'm supposed to wear arch supports.  But, it is better and I can be barefoot again.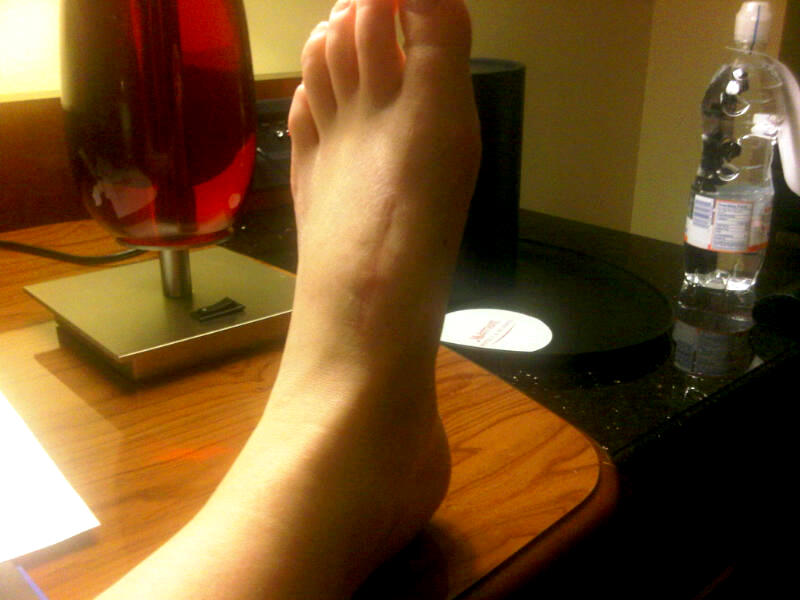 My only lesson?  WATCH OUT FOR THOSE PESKY HOSES!! They will get you if they get the chance.
There are more foot stories and for other great prompts. Just check out Mama Kat's Losin It