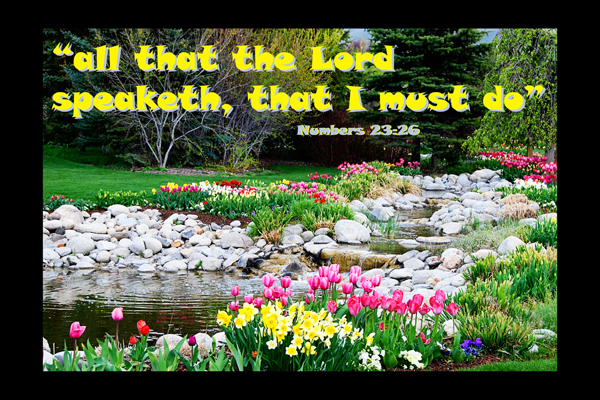 Old Testament Lesson 16
Have you ever really really wanted something and you have prayed about it and received the answer that it is just not the right thing for you?
On any of these times, were you unsatisfied with the answer?
Did you go back and ask the Lord again in hopes that the answer would change?  Or did you just go with your desires?
In Numbers 22-24 and 31, we learn of a very obedient and faithful man.  By some accounts he was a prophet, by other accounts he was accused of being a soothsayer.  Either way, he said he was a man of obedience and faith.  This man is Balaam.  Although he was a man of faith, he was still a man and struggled with the temptations of power and money.
BALAAM REFUSES BALAK'S OFFER OF REWARDS IN EXCHANGE FOR CURSING ISRAEL.
King Balak was the king of Moab.  Last week we talked about the 12 spies that went into Moab to see if Israel could conquer the land.  Joshua and Caleb returned saying that Israel could be successful in conquering Moab.  But, the 10 who said they couldn't conquer it were the 10 that Moses listened to so they waited for several years.
"And the children of Israel set forward, and pitched in the plains of Moab on this side Jordan by Jericho." (Numbers 22:1)
King Balak was terrified by their approach.  Balaam was known in the land as someone who could bless or curse people and that these cursing or blessing were real.  As I said before – in some reports he was considered a prophet of God that held the priesthood.
Numbers 22:5-7
5 He sent messengers therefore unto Balaam the son of Beor to Pethor, which is by the river of the land of the children of his people, to call him, saying, Behold, there is a people come out from Egypt: behold, they cover the face of the earth, and they abide over against me:
6 Come now therefore, I pray thee, curse me this people; for they are too mighty for me: peradventure I shall prevail, that we may smite them, and that I may drive them out of the land: for I wot that he whom thou blessest is blessed, and he whom thou cursest is cursed.
7 And the elders of Moab and the elders of Midian departed with the rewards of divination in their hand; and they came unto Balaam, and spake unto him the words of Balak.
What was Balaam's answer?
He prayed to the Lord and the Lord told him that he should not curse these people and to send them on their way.  So Balak's men returned to Balak and shared with him what Balaam had said.
Think about the reward that Balak was offering.  It was a fine reward.  In today's terms, maybe it was a lot of money, or a great job.  Rewards enough that they would be tempting.
The King was obviously a man of power and he did not accept Balaam's answer.  So he sent another group of men to ask.
This time he offered the following…
Numbers 22:15-17
15 ¶ And Balak sent yet again princes, more, and more honourable than they.
16 And they came to Balaam, and said to him, Thus saith Balak the son of Zippor, Let nothing, I pray thee, hinder thee from coming unto me:
17 For I will promote thee unto very great honour, and I will do whatsoever thou sayest unto me: come therefore, I pray thee, curse me this people.
Tempting?  Has there been a time that you have been tempted to disobey the Lord because the earthly reward seemed really great?
Balak's response was…
Numbers 22:18-20
18 And Balaam answered and said unto the servants of Balak, If Balak would give me his house full of silver and gold, I cannot go beyond the word of the Lord my God, to do less or more.
19 Now therefore, I pray you, tarry ye also here this night, that I may know what the Lord will say unto me more.
20 And God came unto Balaam at night, and said unto him, If the men come to call thee, rise up, and [if though wilt] go with them; but yet the word which I shall say unto thee, that shalt thou do.
By reading that, do you think the Lord was giving him his blessing to go or was he saying, "It is up to you, you already know my answer"?
As a parent or a child or a spouse, have you ever been told, "you know how I feel about it but it is totally up to you" or have you said it?
What was the real meaning behind the statement?
What does Balaam's choice tell us about who Balaam was inside?
I like how Isaiah 29:13 describes this type of man.
13 Wherefore the Lord said, Forasmuch as this people draw near me with their mouth, and with their lips do honour me, but have removed their heart far from me, and their fear toward me is taught by the precept of men:
THE LORD SHOWS THE DANGE OR BALAAM'S STUBBORN INSISTENCE ON HIS OWN WILL.
In Numbers 22:22-35 we read about how the Lord responded to Balaam's choice to do his own thing.  I think it is important to remember here why the Lord did not want Balaam to curse Israel.
Who is Israel? They are the chosen people of the Lord and they are trying to make their way to the promised land.  I would think that the Lord really wants to protect them from evil any way that He can.  He's already given them food, water, shelter, parted the Red Sea etc.  Why would he sit ideally and let one of His servants ignore him without a fight?
Balaam heads out with two of his servants and his donkey.  They start down the road and the Lord sends an angel to get in Balaam's way.   The donkey sees this angel so he turns into a field.
Balaam hits the donkey to get her going in the right path.
How does Balaam's behavior to the donkey resemble his behavior to the Lord?  He's trying to force his will on the donkey just as he is trying to force God to see it his way.
Balaam was able to get the donkey on the path again so the Lord put His angel in front of a vineyard, causing the donkey to slam into a wall and crush Balaam's foot.  So Balaam hits her again.
Then the Lord put the angel in a small space that would not allow the donkey to pass on either side so she fell to the ground.  Again, Balaam hit her with his staff.
Balaam was now being beyond stubborn and blinded by his own desires that he didn't see the angel.  So the Lord opens the donkey's mouth to speak.
Numbers 22:28-29
28 And the Lord opened the mouth of the ass, and she said unto Balaam, What have I done unto thee, that thou hast smitten me these three times?
29 And Balaam said unto the ass, Because thou hast mocked me: I would there were a sword in mine hand, for now would I kill thee.
Balaam had sinned against the Lord.  Did this mean there was no way back to being in favor again?
If you spouse, friend, child hurts you do you turn your back on them?
The Lord said the following to Balaam in Numbers 22:31-33…
31 Then the Lord opened the eyes of Balaam, and he saw the angel of the Lord standing in the way, and his sword drawn in his hand: and he bowed down his head, and fell flat on his face.
32 And the angel of the Lord said unto him, Wherefore hast thou smitten thine ass these three times? behold, I went out to withstand thee, because thy way is perverse before me:
33 And the ass saw me, and turned from me these three times: unless she had turned from me, surely now also I had slain thee, and saved her alive.
Balaam responded in verse 34…
34 And Balaam said unto the angel of the Lord, I have sinned; for I knew not that thou stoodest in the way against me: now therefore, if it displease thee, I will get me back again.
Why does the Lord sometimes chastise His people?
What are the two ways that we can respond to the chastisement? We can be humble and repent or we can be prideful and stubborn.
Which way was Balaam?
The Lord told Balaam to continue on his journey but to only say the things that the Lord tells his to say.
BALAAM REFUSES TO CURSE ISRAEL.
Poor Balaam, he gets to be a man full of lessons for us to learn from.  Once he reached Balak, he did as the Lord commanded and did not curse the people of Israel instead he blessed them.
Balak asked him three times to curse them and each time Balaam blessed them.
What do we learn from Balaam when he blesses the people instead of curses them?
What do we learn from him when he's around to be asked 3 times by Balak? He was willing to follow him around and listen to his requests.
What are some of the dangers in listening to suggestions from those that are unrighteous or have a different goal for us in mind?
President Spencer W. Kimball:  "It is extremely difficult, if not impossible, for the devil to enter a door that is closed. He seems to have no keys for locked doors. But if a door is slightly ajar, he gets his toe in, and soon this is followed by his foot, then by his leg and his body and his head, and finally he is in all the way." (Miracle of Forgiveness, p215)
The quote that I have on the handout serves as two reminders.  The quote is "All that the Lord speaketh, that I must do" (Numbers 23:26)
The first reminder is that we must do as the Lord asks us to do.
The second reminder is that we cannot be like Balaam.  Although he talked the talk, the desires of his heart were not pure.  As he followed Balak around, his armor was chipped.  Yet he knew he could not disobey God.  Instead he gave Balak suggestions on how he could bring down the people of Israel.  As a result, the Midianites started tempting Israel to commit sin.
The Lord was angry and had the people of Israel go up against the Midianites in battle.  The Midianites and Balaam were all slain.
Elder Bruce R McConkie says this about Balaam…
"What a story this is! Here is a prophet of God who is firmly committed to declare only what the Lord of heaven directs. There does not seem to be the slightest doubt in his mind about the course he should pursue. He represents the Lord, and neither a house full of gold and silver nor high honors offered by the king can sway him from his determined course. …
"But greed for wealth and lust for honor beckon him. How marvelous it would be [for him] to be rich and powerful. … Perhaps the Lord would let him compromise his standards and have some worldly prosperity and power. … I wonder how often some of us get our direction from the Church and then, Balaam-like, plead for some worldly rewards. …
"Balaam, … inspired and mighty as he once was, lost his soul in the end because he set his heart on the things of this world rather than the riches of eternity" ("The Story of a Prophet's Madness," New Era, Apr. 1972, 7).
How can we follow the take-home quote in its entirety?  How can we keep our heart focused on doing what God says without being distracted by the worldly desires?
I pray that we can focus on God's goal and make those goals ours.  I know that if we are not stubborn and if we will give our will up to the Lord's, we will be blessed in ways far beyond the riches of the world.
Just as Balaam made his choice to go to Balak, we too can repent.  The choices we have made in the past are still made and determine our current location/situation.  But it is up to us to do as the Lord has asked.  He told Balaam to continue his journey but to do as He says once he got there.  Let us not be as Balaam who started to change his heart but continued to let temptation in