Thursday night we got to spend some time with my parents, brother and sister (plus her family).  This doesn't happen very often because my brother lives in California.  Tom was here consulting for some major companies so we were lucky to get any of his time.
While we were there, my folks took the kids to a neighbor's house to swing.  They loved it but I was too cold to hang out for very long.  Ivy was just tickled to be there and Jade found a challenge in everything.  She had to swing higher than the bar and do the monkey bars going backwards.  Harrison was just thrilled with the teeter totter.
For Mother's Day,  Jade wrote me a letter in her Spanish Class.  It's a good thing she translated it for me because I have zero Spanish understanding.  Russian, I would have been okay but not Spanish.  I love that she thinks I'm funny and a really good cook.  One of those two things I strive for and one of them I have accepted will never be my talent.  Any guesses on which is which? 🙂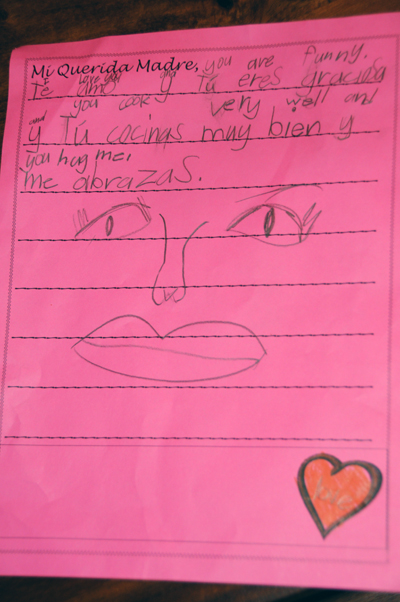 While Jade and I were studying her spelling words, Ivy drew me a picture.  Once she was done, she asked that I take a picture of it.  It is a good thing I am never lacking for an eager photography subject.
Below is the bouquet of flowers Scott sent me.  Aren't they pretty?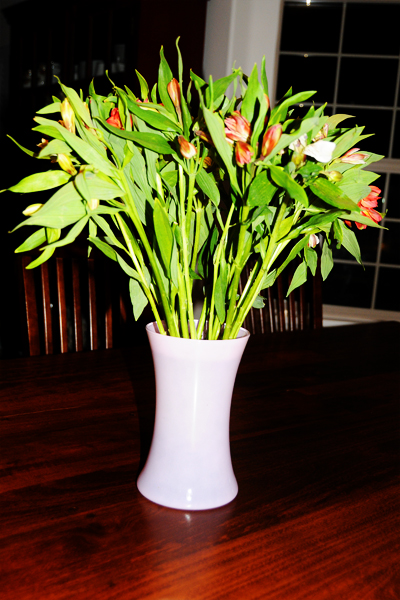 Well, no great photos and not much of a story, but that was our night and I loved it.
Check out some great photos and real stories by clicking the buttons below.