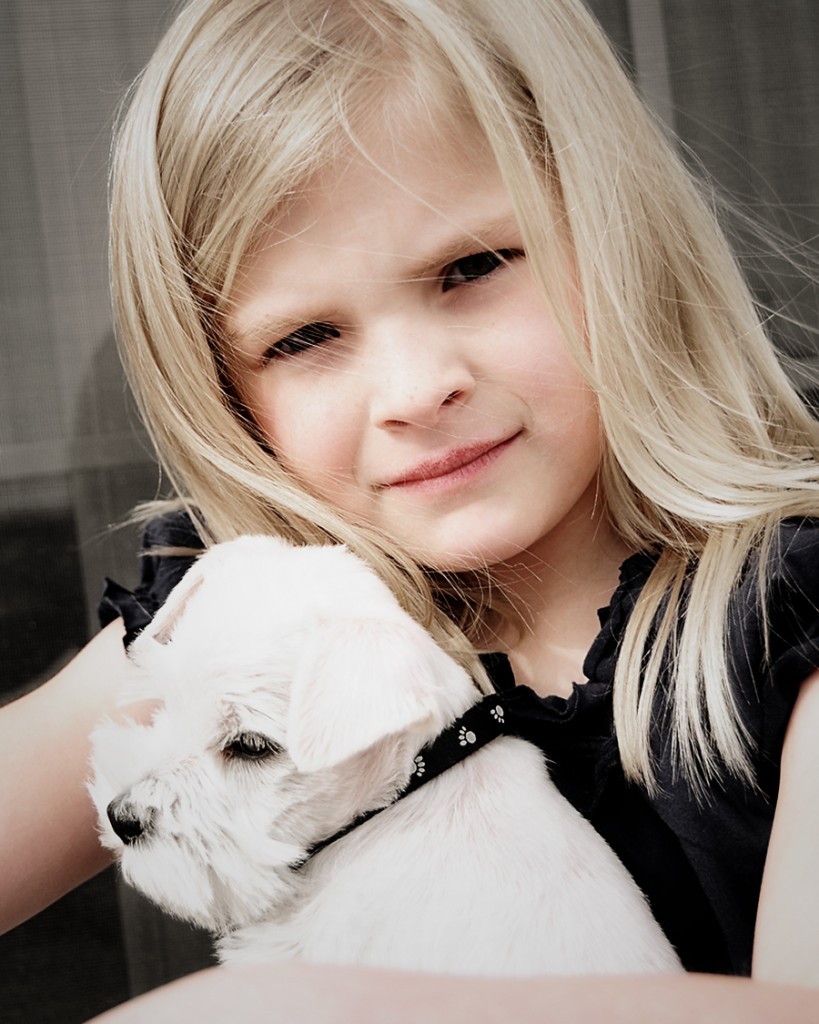 "Ahhh, a puppy" has turned into "Ah-Choo, a puppy!"
Oh we are so excited about our sweet little puppy, but we are also having some struggles.
Poor Scott is terribly allergic.  One of the reasons I picked a Schnauzer is because they do not shed and are considered pretty allergen free.  Scott, our nephew and my cousin (oh and I) will all argue that Schnauzer puppies are NOT allergen free.  We've seen our fair share of hives, itchy and red eyes, asthma attacks and stuffy noses.  I'm just really hopeful that  the allergies will go away with his puppy fur because Jade is absolutely smitten.
I've also learned a couple of reasons why I like girl puppies better.  Girls do not hump the stuffed animals nor do girls have the "little red thing that comes out of his tummy" that Jade is finding very upsetting.
Another challenge we are facing right now is that he has started biting quite a lot and has Ivy completely scared of him.  She'll only hold him when he is asleep.  Otherwise she's way too freaked out.
The potty training is WAY easier with kids than with dogs.  That is all I will say about that.
On the bright side, he is ADORABLE and everyone that has met him thinks he is the sweetest, most cuddly, and prettiest little Schnauzer pup ever.  I will completely agree.  He'll snuggle into you, he loves to get his tummy rubbed, he's learned how to do the stairs up and down and he prefers to sleep with someone rubbing his head, tummy or ears.  Oh, and he's sleeping from 10:30 until 6:30!!!  That part is better than either of the girls did.  Oh and better than Ivy still does.  (I know, I know – she's 4.  You'd think she'd be able to sleep through the night).
I'm glad the girls are having so much fun with him, and I'm tickled when Scott enjoys a moment of him here and there.  Let's just keep our fingers crossed that the allergies will go away soon.
Jump on over to Seven Clowns to see more "Wordful Wednesdays".