*** Scott thinks the title of this post should be "Swinging Schnauzers".  I may need to start consulting him before I hit post.
This week I am really excited to share some big family news.  And although I do not intend on having this blog become a family journal, this is a great time to share a story.  After all, it is Photo Story Friday and Give Me Your Best Shot time.
I have always wanted a dog.  I grew up with miniature schnauzers (my last one died after Scott and I were married).  For a long time, we have told the girls that we couldn't get a dog until I quit work.
Well, I was having a conversation with my boss about dogs and how much I wanted one but it just wasn't the right time.  He said, "Oh come on, you can put him in a kennel when you are at work.  He'll be fine.  Plus the FBI has said that an inside dog is the best alarm system."
So that night, I told Scott about the FBI.  He said, that if I wanted one then I could start looking into it.
Throughout the night, I kept having nightmares that someone was in the house.  Then when Ivy woke up at 2:00 wondering if it was morning yet and turned on the light, I was glad to have her in my bed so I had one less girl to worry about.  But, she left her light on.  While she was cuddling with me, her light switched off.  My heart started racing.  There are two light bulbs in her room so there was no way they both died at the same time.  I laid awake, staring at the hall.  Finally I freed myself from Ivy's cuddle and went to check on Jade.  I stopped at Ivy's light and found that it was only halfway flicked – phew, no one had turned it off.
Then I went back to bed and didn't sleep.  I started thinking about a blogger that I follow.  Songberries had miniature schnauzer puppies last year so I got wondering if I should get in touch with her to see when her next litter would be arriving.  Saturday, I logged on to my reader and saw this post by Songberries.  I immediately sent her an email and we started conversing about it.
Sunday, we made our way up to visit her and we'd now like to introduce the newest member to our family, Zero.  Isn't he adorable?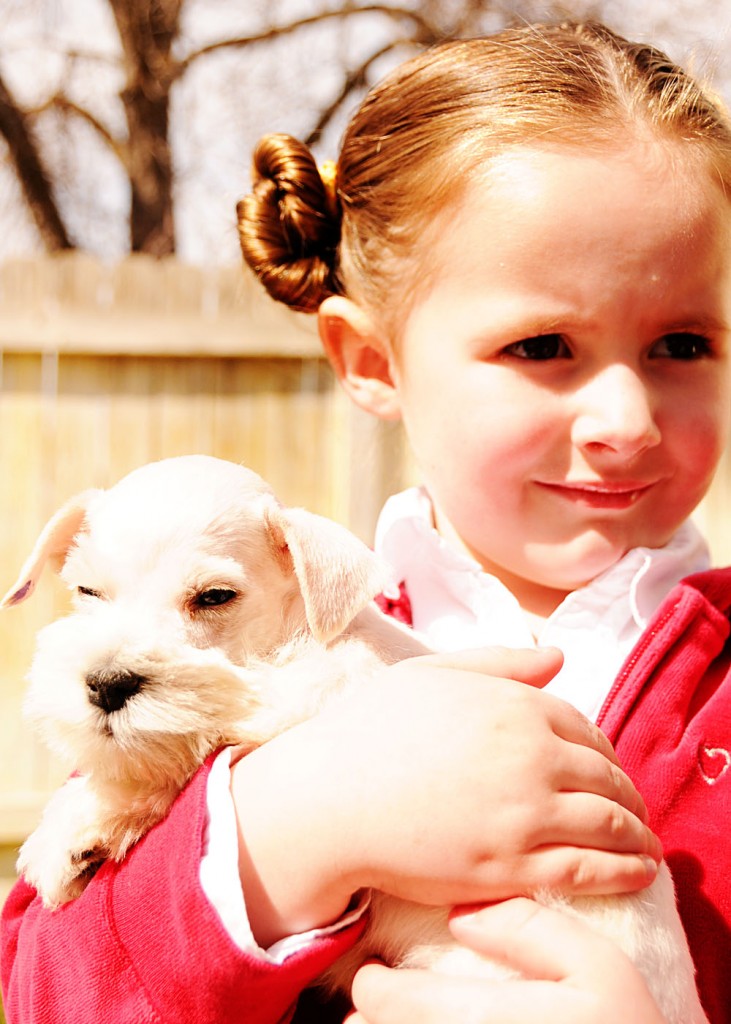 If you are interested in welcoming a beautiful little boy into your family, Carol at Songberries still has some.  They are ready to be adopted and are super sweet and cuddly.  Oh, and they have a great tree swing in their front yard!
Check out the other photo stories and GMYBS…