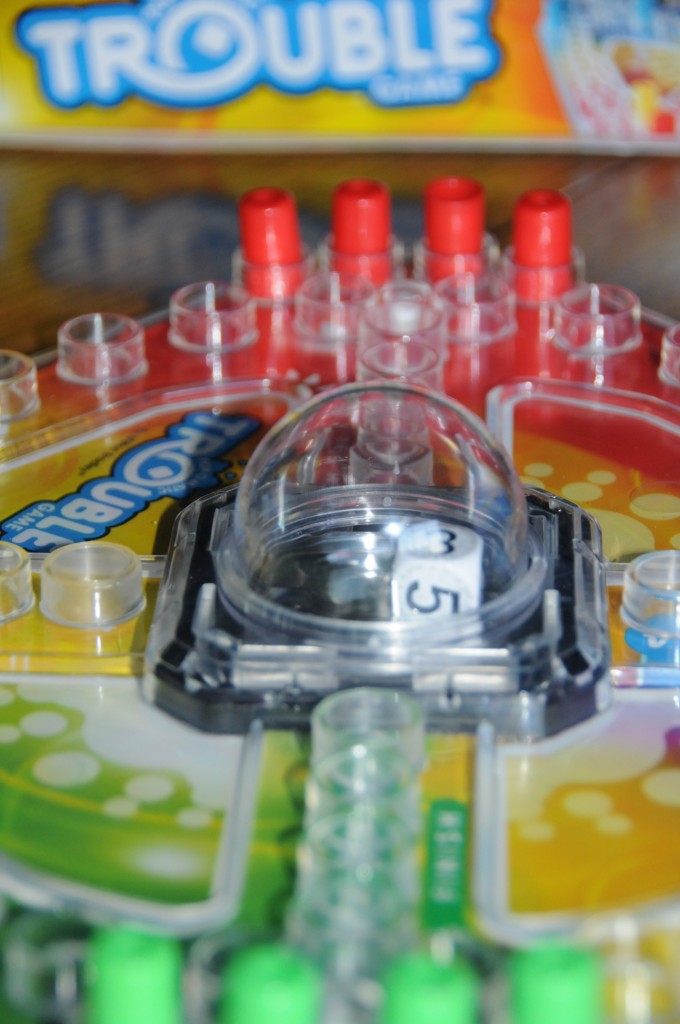 Have you ever wanted to commit suicide?  Scott hadn't either – that is until our family played "TROUBLE"!
Trouble is not a fun family game.  It isn't a game of strategy.  Nor does it teach you anything of worth.  It is just an obnoxious game of luck.
Trouble has a bubble with a die in it.  You have to pop it for your turn.  If you get a 6, you can move out of start, plus you get another turn.  Problem with this game… the bubble is small and the die can barely move around.
The game started with the three of us gathering around the little tiny board.  (Ivy was watching a movie).  Jade was first to start: she's always the first to start.
Jade pops the little bubble and gets a 6 so she goes again.  Next, I go and get a 2.  Scott gets a 2.  Back to Jade's turn – she gets a 6 and goes again.  Several – maybe 10 turns go by and Jade has all 4 of her guys out of start while I have 0 and Scott finally has 1.
At this point, Ivy decides she wants to join in.  She played with our same luck and it took forever to got a 6.
The game went on FOREVER!
Oh, and there are these little holes that your pieces stand in.  If you ask a 7-year-old not to go into each hole while she is counting, don't expect her to EVER stop doing it.  Apparently it isn't within their power to count without going in EVERY SINGLE HOLE.  But do expect the 4-year-old to lightly touch each hole and then chime in with, "did you notice how I just gently touch the side of each hole?"
By the end of the game, Ivy is doing Scott's turns and we're doing all that we can to avoid sending someone back to start.  By everything I mean CHEATING.
The game ended – finally – with groans and sighs.  Three of us sighed relief that the game was over and the 4th moaned that she lost and just couldn't get that last all important 6.
If you like games of complete luck, you will love Trouble.  We don't.