…my wedding day.
Today, I am participating in a writing workshop with MamaKat.  The prompt that I have chosen to write about it is "If you had to relive a day in your life what day would it be?"
I loved my wedding day, and would love to have that day to do over again.  There was so much about it that I loved but I have a few important things that I would change.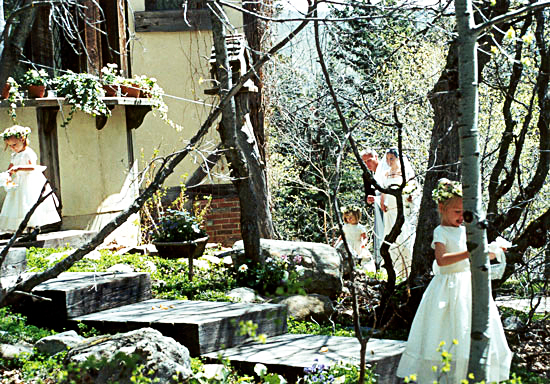 Allow me to start with a list of some of my favorite parts of that beautiful day in May 2001.
This was the day that I said "I do" to the most amazing man.  I married the man of my dreams and I didn't settle on a thing.  (Even though at 29 years old it was tempting.  Oh and yes, I realize 29 is only old outside of the Mormon Utah community).
Where I got married was beautiful and perfect.  We were blessed with a sunny and warm day, following several long days of heavy rainfall.  The rain helped the flowers and the ground cover grow and cover the grey remains of winter.
Speaking of flowers, my flowers were amazing.  My mom is a wonderfully talented floral designer.  She was able to make the bouquet that I had always wanted – white tulips.  The rest of the flowers all around were tasteful and beautiful.
Our cake – perfect.  My 5th grade teacher became a cake decorator after she left teaching.  It was delicious and elegant.  Unfortunately the frozen top was ruined when the freezer broke – only months before our first anniversary.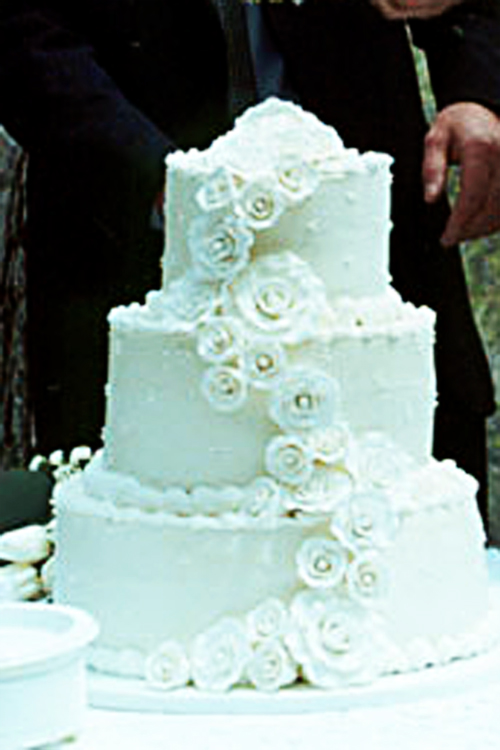 I loved my dress but it was not my dream dress.  My dream dress, you ask?  Oh that was a Melissa Blackburn original.  Unfortunately we had a short engagement and there just wasn't time for one of her masterpieces.  We did get to have the flower girls in dresses from her children's line.    They were beautiful and my girls got to have them as their easter dresses a couple years ago.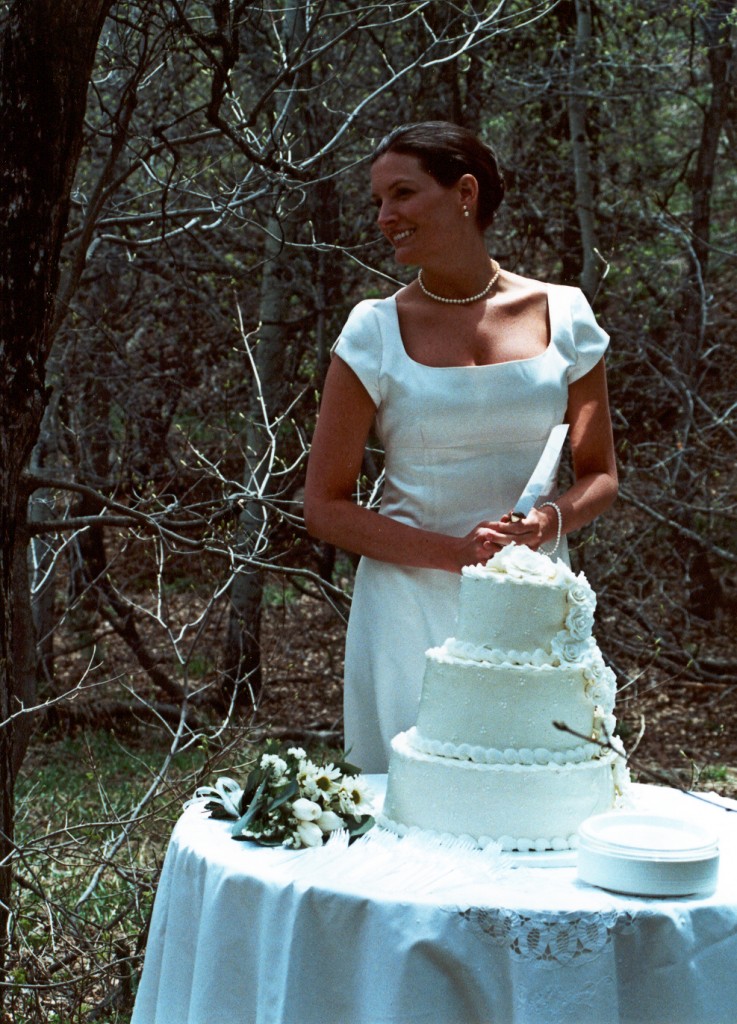 I would love to relive that day and be reminded of the love and support that surrounded us that day.  The happiness that is reserved for wedding days and births of your children is so intense that you seem to forget it.
So what would I change?
1.  We had a very tight budget and my husband wasn't big on the idea of a great big bash.  So for lunch, following the ceremony, we had a barbecue.  I honestly don't remember eating it, but from what I remember hearing it was wonderful.  But we were limited by budget to a small number of guests.  We didn't even invite most of our cousins.  Because we had narrowed it down to such a small group, there were some important people left off of the guest list.  One of my closest, dearest and longest friends was left off the list – and I've regretted it always.  My parents also left some of their closest friends off the guest list – something that they have regretted as well.
2.  The next big thing that I would have changed was that we should have hired a photographer.  I have some beautiful pictures from that day that my mom took and that my talented cousin took.  But, both of those people were also part of the wedding.  It is always worth hiring someone, outside of the family, to focus just on the pictures.  I have no bridal portraits.  I have no great pictures of the two of us.  I'm just lucky that my mom and my cousin are both so talented.
If I could relive it, I would embrace every single moment.  I would make sure that I was a gracious and loving bride.  If I could capture the excitement of the moment and draw from it every day – I would.
It is sad that the biggest and most important days of our lives are so full that we can't remember the sweet little things forever.  Luckily we have pictures to prompt our memories.  Or, maybe, it's just me who doesn't remember the big days as well as I would like. Either way, those are the reasons I would do-over.
Be sure and visit MamaKat's workshop and see how other people answered her prompts.