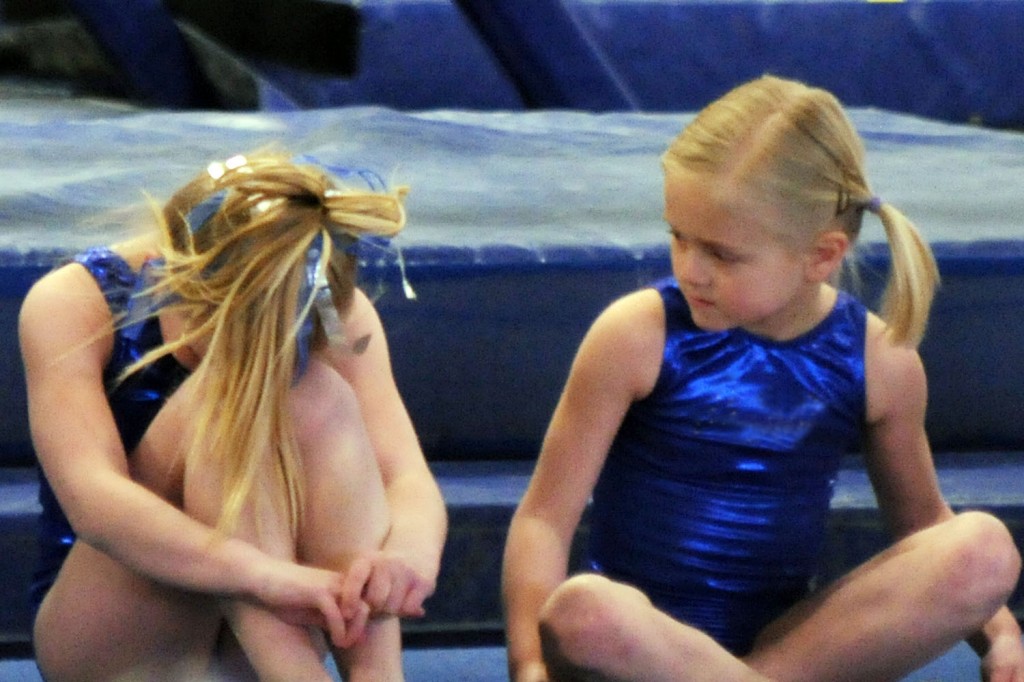 Some days are better than other days.  As parents we have to be there to help our children rise above it.  That isn't always easy.
The other day, Jade had a gymnastics meet.  The day before, she had a rough fall from the beam- rough enough that many of the girls went home and told their mom about Jade's bad fall.   I was worried that the fall would make her a bit more nervous during her meet, so I warned her coach.  Her coach had her repeat the trick she fell on multiple times to show Jade that she could do it.  I was so proud of her pushing past her fear and getting up and doing it.
She did the best she had done on the floor and performed a wonderful bar routine.  It was time for the beam.  She had her legs perfectly straight and toes pointed.  Her scale was beautiful and everything was going perfectly.  She landed solidly on the trick that she was so scared of.  Then it was time for her dismount.  She started the move the right way and suddenly, her balance was off and she fell backwards- all the way into the judges table.  She sadly got up, did her salute and returned to her place in line.
I wanted to run out and hug her so badly.  We watched the sweet little girl next to her trying to console our broken-hearted gymnast.  There was no chance of cheering her up.  The other girls all did their routines, and she stayed with her head down and tears streaming down her face.  (Of course, I had treated her with mascara that morning- not water proof).
We blew her kisses and mouthed how proud of her we are.  She smiled and waved.  She was able to pick herself back up and finished the meet with a strong vault.
As a parent, we can't always run out and give our children a hug to make them feel better.  It is our responsibility to make sure that they gain from us the knowledge that they are wonderful- no matter how bad their day was.
We can help them with this…
be a good example and not let our bad day affect how we treat them
hug them as often as possible and reassure them of our love
point out the great things that they did that day
help them see how they can sometimes fix the problem
and sometimes they can't fix anything at all- but have to be okay with it
let them cry on our shoulder until they are ready to move on
Plus, there is always tomorrow.
How do you help your child recover from a bad day?