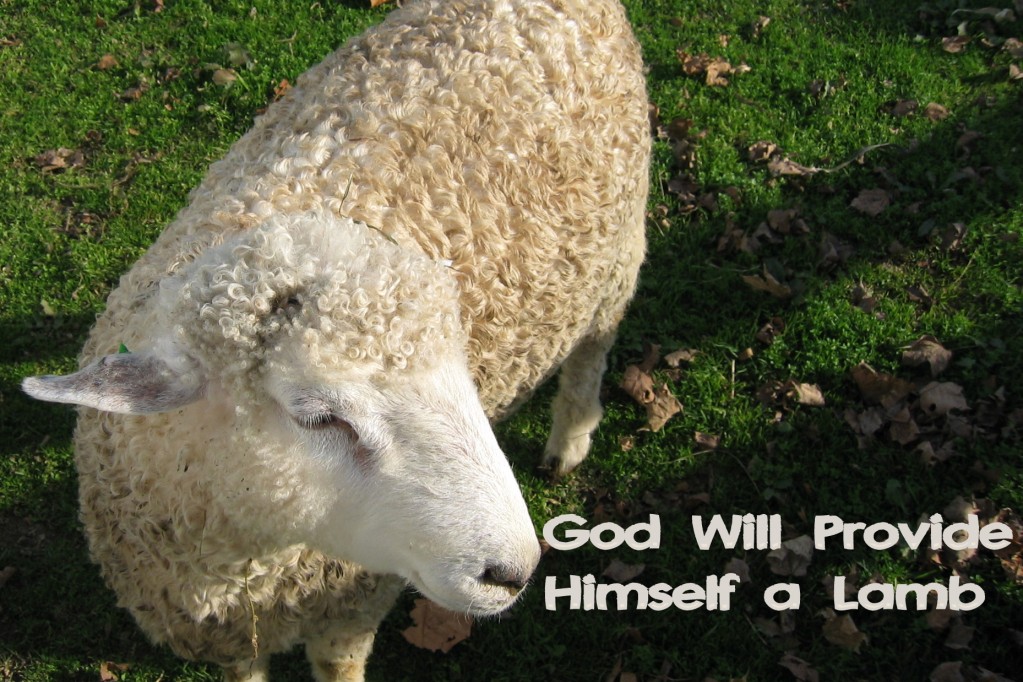 I don't teach this week, but I still wanted to take a moment and discuss the lesson just a bit.
The book of Genesis is such an amazing book of faith in God.  All of the stories of Abraham astound me and bring me to my knees.
It is my wish to have the faith of Abraham.
This week's discussion is on sacrifices.  In Genesis 16, 17 and 22.  We are told of many stories of sacrifice.
The first story is of Sarah's sacrifice.  Sarah was unable to conceive so she gave her husband her handmaid to marry.
Wow! I cannot even begin to imagine her emotions.  First, having the pain of not being able to conceive and then the faith to have her husband be with another woman.
What would you do if the Lord told your husband that he would have a son but you were unable?  I don't know that I have the faith to do what Sarah did.  But I do think I would respond more the way that Sarah did following the news that Hagar had conceived.
Sarah freaked out.  Which, I have to admit, I find comfort in knowing that she couldn't just go along with it- without having a bit of break down.  She did find the faith, following her melt down to welcome Hagar back home.  Sarah was able to overcome her emotions of fear and jealousy and leaned heavily on the Lord.
Has there ever been something that you have longed for and waited for that instead of you getting it, your best friend got it?  That feeling is probably somewhat similar to what Sarah went through.
In chapter 17, a 99 year old Abraham goes to the Lord and is told that Sarah (his 90 year old wife) would still conceive a son named Isaac.
What did Abraham do?
He fell upon his face and laughed.
I can only imagine my feelings would be somewhat the same.  But, again, because of the faith Abraham and Sarah had, they were indeed able to bring Isaac into this world.
Then in chapter 22- we learn of Abraham's greatest sacrifice.  He is asked to sacrifice his son Isaac.
I am amazed at the faith of this man.  He doesn't argue.  He doesn't ignore the request.  Instead, he packs for the long trip and takes his son to be sacrificed.
Imagine for a moment the intense emotions that were felt when Isaac asked his father where the lamb was for his offering.  Can you feel the tension that followed as Abraham responds that the Lord will provide himself a lamb.
What do you think Isaac felt?  Do you think he had an idea?
In the end, Abraham did not have to sacrifice his son that day.  But God the Father eventually did have to sacrifice His own son.  Abraham's sacrifice was to show God his faith and love.  God's sacrifice was to show us His love and to save us all.
Sacrifice is not meant to be easy.  True sacrifice is very difficult but it has an intent.
Over time, we have all sacrificed something for one reason or another.  Take a moment to look at your life.  Think about the times that you have had to sacrifice in your life.  For some of us, we may have had to sacrifice a lot.  While others of us have only sacrificed trivial things.
Think about the 5 things that mean the very most in your life.  What would you do if you were asked to sacrifice just one of them?
The biggest sacrifice that I can remember making was years and years ago.  I was a dancer.  I was a model.  I always dreamed of taking one of those to next level.  I was 20 years old and was preparing to go on a mission. Once I turned in my papers, I received an offer to tour the country as a dancer and was offered a contract with an agency in New York. 
I walked away from both of my dreams because I knew that where I was needed most was on a mission.  If it was the right thing for me to dance or model, the opportunity would present itself AFTER I served the Lord.
Neither ever happened when I returned, but I have never once regretted my decision to serve a mission.
Our Father in Heaven made the greatest sacrifice of all when He had his son die for us on the cross.  He sacrificed His son that we could all live again.
Now it's your turn, when have you had to make a sacrifice?