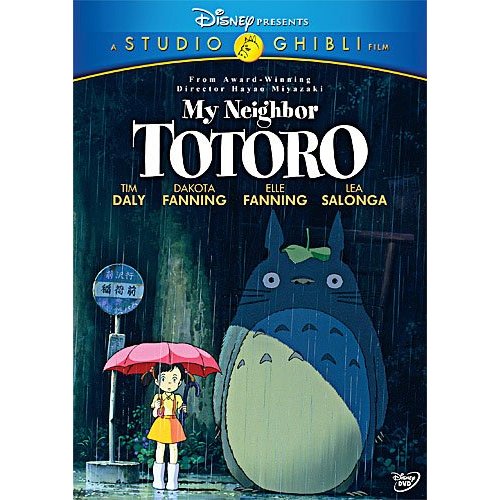 About two years ago, my brother's family introduced us to "My Neighbor Totoro".  Totoro brings hope and peace to two young girls while their mother is recovering in a hospital.  Our girls fell in love with the characters and the style of this movie. 
Hayao Miyazaki is an absolutely brilliant film maker.  His movies are watched over and over in our home. 
Some of them freak Ivy out- just a little, but most of them she will really sit and watch. (It's not an easy thing to capture Ivy's attention for a full movie- and Miyasaki-san's movies are all nearly 2 hours long)!
This week, Miyazaki-san's newest movie was just released on DVD.  The girls can't wait to watch it tonight.  (I have had it in my Netflix queue for over 3 months now and it finally arrived yesterday).  The new movie is Ponyo and it is based on the original story of "The Little Mermaid" and has been re-dubbed with the voices of Liam Neeson, one of the Jonas Brothers and Cate Blanchett. 
Check out all of his movies– you'll be amazed at the stars that have lent their voices to the english versions.  You'll find Uma Thurman, Dakota Fanning, Kirsten Dunst and Debbie Reynolds- just to name a few.
Some of our favorites- Totoro, Nausicaa and Kiki's Delivery Service.